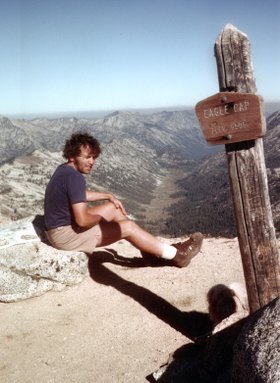 Michael Nagler
unknown - May 25, 2012
Michael Nagler, longtime resident of Hood River, Ore., passed away on May 25, 2012, at the age of 72. Michael was a man of many passions and shared his pursuit of those passions with his good friends, including Gary Jones, owner of Bette's Restaurant in Hood River.
On his daily visits to share clippings and discuss world and national events with Gary and local friends from his military days, Michael carried a folder of articles related to space exploration, astronomy, nature, NOVA, politics and his beloved home, Oregon. He shared willing and selflessly of his research and knowledge and expected nothing in return.
An avid hiker, Michael was up most days before dawn outfitted with his cameras and photography gear. His first love was photographing his native Oregon in all its aspects. He brought new life to old barns, farm equipment, churches and ghost towns, and captured the depth and beauty of a waterfall or a mountain stream with stunning clarity.
Though Michael gave abundantly of his art and photography to the special people in his life, he did not wish to sell any of his work. Many of his photographs can be seen today on the walls at Bette's Restaurant in downtown Hood River.
In addition to his photography, Michael was an accomplished artist, creating works of art on a sketchpad replicating his photographs. His collection of art is massive and plans are being considered for a way to share it with the community.
He is well-known for his annual Christmas card, which he hand sketched and sent to his friends and loved ones. Anyone fortunate to receive these cars is eager to share their collection of the treasured works with friends and acquaintances.
Michael was born in Portland and attended Lincoln High School, entering Officers Candidate School upon graduation and serving as an Army first lieutenant in Vietnam. During the war, Michael often used his gardening skills to create colorful landscaped areas on location, where service men and women could go for rest and respite.
Upon completing his military service, Michael returned to Oregon. He received his undergraduate degree in landscape architecture at Oregon State, and his graduate degree in land use planning at University of Oregon.
His body of work goes back to his college days, when he worked at Wallowa Lake Lodge and in John Day during summer breaks. After a brief stint in the Willamette Valley, Michael worked as planning director for Hood River County before committing his full effort to his art and photography.
Michael will be remembered by the people who loved him as a passionate, generous man who committed himself totally to the task at hand.
This obituary of his Memorial Day weekend passing appears in the Independence Day issue of the Hood River News to honor his brave service to his country. He leaves behind a sister, Claudia Kanelis; a brother, David Nagler; uncle, Glenn Allen and cousins, Linda Longworth and Nancy Beaty. Michael was dearly loved by his nephews Gregory Kanelis and Michael Kanelis and his nieces Stephanie Moreau and Sara Burchett.