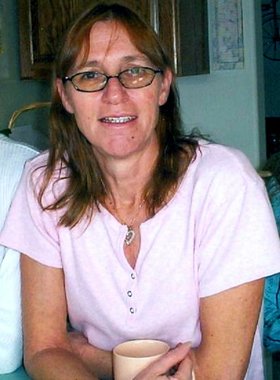 Rae Monna Rhodes
October 10, 1958 - June 27, 2012
Rae Monna Rhodes, 53, was born Oct. 10, 1958, in White Salmon, Wash., to Wayne and Marie Barton. She passed away peacefully at her home in Parkdale, Ore., with her family by her side on Wednesday, June 27, 2012, at 12:10 a.m.
Rae lived and grew up in Husum, Wash., and attended school at Columbia High. She moved to Parkdale in 1985 and worked at the Lava Bed Nursery where she would meet her future husband, Kayo Rhodes. They married May 25, 1991, and raised three beautiful daughters.
Rae enjoyed the outdoors and working in her flower garden with her children and grandchildren. She also grew a lovely vegetable garden and could can anything. She loved camping, fishing, horseback riding, deer camp, dancing and most of all, her family.
She was a wonderful artist; she could paint, sketch, and her wood burnings can be found all over the United States.
Rae is survived by her husband, Kayo; daughter and son-in-law Reina and Chuck Stewart, of Minnesota, daughters Stormi Rhodes and RaeAan Rhodes, both of Parkdale; and granddaughter and grandson Pamela and Oryan Stewart.
She is also survived by her parents, Wayne and Marie Barton, of Husum; three brothers: Fred and Mary Loucks, of Soap Lake, Wash., Byron and Carolyn Loucks, of Stillwater, Okla., and KC Barton, of Husum; sister Coy Barton, of Mosier, Ore.; and numerous nephews and nieces.
She had a strong faith in the Lord and was a lifelong member of the Husum Church of God. Memorial services will be held at the Husum Church of God on Saturday, July 7, at 11 a.m. Memorial contributions in Rae's memory may be made to US Bank for the Rhodes girls. Gardner Funeral Home (1270 N. Main, White Salmon, Wash.; 509-493-1323) is handling arrangements.