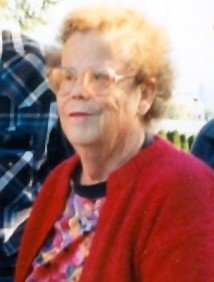 Mary Alice Jones
September 26, 1921 - July 15, 2012
Mary Alice Jones, 90, of Parkdale, Ore., died on July 15, 2012, surrounded by her loving family. She was born on Sept. 26, 1921, in The Dalles, Ore., to George and Gertrude Moore, the fifth of 10 children.
Mary grew up in The Dalles and attended St. Mary's Academy. Her family was one of the first to homestead in The Dalles.
Walking home from high school one day, she met the love of her life, Myrl Dewane Jones. They married on Aug. 9, 1941. Myrl was deployed in World War II and did not return for four years. The couple continued their loving relationship during his time away, with beautiful letters, shared with her children in later years.
After the war they resided and started their family in The Dalles, in a home that Mary helped purchase with her wages from working at Wilson's Grocery.
In 1964 the family moved to Parkdale, Ore. Mary worked at Diamond Fruit for 24 years.
She participated in many community activities including the Parkdale Garden Club, creation of the Parkdale Memorial Garden, Hood River Art Club, Ladies VFW Auxiliary, Parkdale Grange, St. Mary's Catholic Church, Sorosis Rose Garden, The Dalles Art Club, St. Mary's Alumni Association, St. Rose Circle and TOPS. Mary also was a role model for youth by serving as a Cub Scout and 4-H leader for many years.
Mary was a wonderful artist. Her beautiful paintings hang in homes all around the United States and on three other continents. In addition to her talent as an artist, Mary also was a Master Gardener. People would flock to Mary's Annual Plant Sale. Her passion for life will be reflected in the beauty of her flowers that will continue to bloom for many years to come, throughout the Valley.
Mary is survived by her children and their spouses: Jean Hockman (Keith), of The Dalles, Catherine Graves (Ron), of The Dalles, Bill Jones (Cindy), of Portland, Helen Young (Creighton), of Portland, Patty Hedges (Del), of Parkdale, and Sue Hedges (Doug), of Parkdale; her siblings: Robert, of Redondo Beach, Calif., sisters Helen Moore, of Marylhurst, Ore., Agnes Brown, of Tygh Valley, Ore., and Frances McCall, of White Salmon, Wash.
She is also survived by her grandchildren: Teresa, Brian, Michael, Rebecca, Jeffrey, Jason, Evan, Corrine, Kathryn, Kevin, Bethany and Michael, and their spouses and partners; and 20 great-grandchildren.
Mary was preceded in death by her husband, Myrl, her parents, five siblings and two grandchildren, Diana and Andrew.
Mary was a loving and caring Mother and Grandmother, who taught her family to love life and enjoy it to the fullest.
Viewing is scheduled from 9 a.m. to 5 p.m. on Friday, July 20, at Anderson's Tribute Center. Friends are invited to greet with family on the evening of Friday, July 20, from 5-7 p.m., also at Anderson's.
A Rosary and Mass will be held at 10 a.m. on Saturday, July 21, at St. Mary's Catholic Church, 1501 Belmont Ave. in Hood River, followed immediately by burial at Parkdale Cemetery and a reception at the Parkdale Grange.
Condolences are being received online.
Services Location
Anderson's Tribute Center
1401 Belmont Ave. Hood River, OR 97031
541-386-1000
Fax 541-386-7380