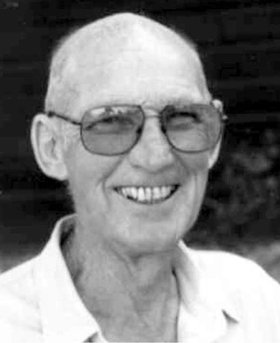 Charles William Beam
August 31, 1921 - July 16, 2012
Charles William Beam, M.D., was born Aug. 31, 1921, in the tiny town of Clyde Park, Mont., to parents Joseph William and Mildred Iona (Harper) Beam. He was the second born, first male, of siblings Virginia Jean Ellen (deceased), Benjamin Howard, Kenneth Joseph, Clifford Eugene, Chester Ronald (deceased) and James Lawrence.
Charles' early years were spent in another tiny Montana town, Willow Creek, except for a short period in Minneapolis where his father, a disabled World War I veteran, attended school for a few months.
At age 11 he migrated with his parents to the Hood River Valley in Oregon where a 10-acre "stump ranch" was purchased and a home constructed. Stumps were cleared, and strawberries and other crops were planted.
In Oregon Charles attended grade school and two years of high school before dropping out to work in fruit harvests, sawmills, ranch work and construction trades. He also spent six months in the Civilian Conservation Corps.
At age 18 after the death of his father in 1940, and when winter shut down his construction job in Klamath Falls, Ore., he returned home to join the Navy in February 1941, hoping to become an aviator.
After stints in "boot camp" in San Diego, Calif., and aviation machinist mate school in Jacksonville, Fla., he was assigned to Squadron VJ-18 in Corpus Christi, Texas, where he initially worked in the carpenter shop before being assigned as "plane captain" on one of the PBY-3 seaplanes.
Shortly after Dec. 7, 1941, he applied for and was accepted for flight training which entailed about three months of pre-flight training in Athens, Ga., followed by primary flight training in Dallas, Texas; then dive bomber training in Pensacola, Fla. He graduated as Aviation Pilot First Class, one of about 200 enlisted pilots in the Navy at that time.
As a pilot he was first assigned to a Utility Squadron at the Coast Guard Station in San Francisco, Calif. Shortly thereafter the squadron moved to the Moffett Field Air Base in California, providing utility services to ships at sea, shore gunnery batteries, radar installations and aerial mapping facilities.
When the squadron was ordered overseas, all the enlisted pilots were advanced to officer status because it was felt that officers received better treatment if captured by the Japanese. He became a Naval Ensign, and later advanced to Lt. Jg. before the war ended. He then applied for and was granted early release from his six-year term of enlistment.
With the GI Bill and summer construction jobs, plus results of the G.E.D (general educational development test) he was able to continue his education. He finished the pre-med course at the University of Oregon in Eugene, and then earned his bachelor's and medical doctor degrees at the University of Oregon Medical School in Portland.
In medical school he met and married his soul mate, Roberta Helen Allen, who survives him; as do children David William and Jeannette Marie (Beam) Forbes; grandchildren Brian Alexander Beam, Elizabeth Irene Forbes, Robert William Forbes and twins Katherine Louise and James Monroe Forbes.
After graduation from medical school there followed a year of Internship in the Santa Barbara, Calif., Cottage Hospital, then three years of radiology residency in Oakland, California's County Hospital.
After passing radiology board examinations, to become certified, he moved to Fresno in 1956, where he worked briefly for another radiologist before working with Dr. Paul W. Meyers (deceased).
He later became chief radiologist at Children's Hospital. During this time of service he was chief of staff for two years. He retired in 1984, motivated by the looming encroachment of Title 18 and Title 19.
Then he had time to pursue activities he had dreamed of doing when he had time. These included some travel, golfing, fishing and learning to play the guitar, Dobro, harmonica and banjo. He became interested in genealogy and compiled a family history book.
He was a charter member of the San Joaquin Country Club where he played golf, his favorite sport. He served two terms on the board of directors. He resigned after about 25 years as the club matured, changing and limiting his enjoyment of golf.
Charles passed away July 16, 2012.
In lieu of flowers remembrances may be made to Children's Hospital of Central California, 9300 Valley Children's Place, Madera, 93636; St. Agnes Hospital, 1303 E. Herndon Ave., Fresno, CA 93720; or his alma mater, Oregon Health & Science University Foundation, MS/45, P.O. Box 4000, Portland OR 97208-9852.
A Celebration of Life was scheduled to be held at San Joaquin Country Club on Friday, July 27, at 2 p.m.