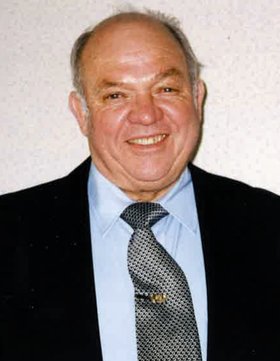 Bill Norman Chrisman
September 3, 1933 - June 2, 2012
Bill Norman Chrisman, of Hood River, Ore., died of cancer June 2, 2012, in Hood River. He was born Sept. 3, 1933, in Yorkville, Ill., to Robert Lotus and Olga Mae (nee Olson) Chrisman. Bill came to Hood River, Ore., via Morris, Ill., at age 3 and graduated from Hood River High School with the Class of 1951.
He was giving to the extent he would actually give a stranger the shirt off his back or plow a driveway for many neighbors who could not afford to have it done. During the 1980 snowstorm, he delivered food to and checked on many shut-ins by snowmobile.
Bill attended Riverside Community Church and in his later years was a member of the Elks, where he helped run their scholarship program.
He had a strong work ethic and despite worsening memory, he continued working from age 5, selling newspapers until about nine months before his passing. In fact, he was helping one daughter put oil in her car about two weeks before he passed.
Bill loved children and coached girls softball and basketball through the 1960s and '70s while his daughters were playing. He even had his nose broken once or twice by an errant ball.
He was a consummate friend who enjoyed being on the Class of 1951 reunion committee and was honored as Classmate of the Year in 1991 for his efforts. He was a fixture at local cafes where he would meet friends for coffee almost daily, especially Rosauers and Safeway.
Bill had many jobs over his lifetime, from industrial clean-up to tugboat laborer just out of high school. He worked in sales with the local Chevrolet dealership as well as selling farm equipment at several establishments.
He always wanted a quality product, either his equipment or his paving, because he liked to be a man who stood by his word and the sale he made. He ran Columbia Gorge Roads Asphalt Paving and previously Chrisman and Dehart Paving, as well as with Gordon Christmann had BG's Grocery on the Heights in the early 1960s. His children and wife engaged in grocery delivery service during those years.
He embraced life "in the moment," and liked to sing, whistle tunes and dance. He and Shirley celebrated with family and friends in advance of their Aug. 3 60th wedding anniversary in April 2011. This August would have marked their 61st anniversary.
Bill is preceded in death by his parents, Robert Lotus Chrisman and Olga (Olson) Chrisman and brother Bobby.
He is survived by his wife, Shirley; sister Carol (Sam Meyle); and six children: Mary Jo of Katy, Texas, Marlee (Bill Goe), of Odell, Ore., Stuart Chrisman, of Hood River, Donna Chrisman, of Hood River, Leanne, of Westlake, Ohio (Bassam Khawam), and Janet Lambert, of Eugene, Ore.
He is also survived by grandchildren Aaron (Shannah), Kerry and Tara Goe; Jay, Jacob and Jhett Chrisman; Adri and Ariel Chrisman; Malek, Elisa, Tarek and Maya Khawam; and Kyle and Kate Lambert; and great-grandchildren Cale Goe and Achilles Chrisman.
Bill loved big gatherings and loved having his family and friends all together, as well as bragging about his children and grandchildren to anyone who would listen. He lost the fight to cancer surrounded by his large and loving family. To sum up, his priorities were family, self-reliance and love.
In lieu of flowers, a memorial fund in his name has been established at US Bank. The fund will benefit the children of Hood River Valley Schools through their athletic programs including purchasing safety gear, supporting teams and scholarships for graduating seniors who are the best team player, work the hardest and have been identified by peers, teachers and coaches as the individuals who are "most improved" and improved the most, in others' lives.
A memorial service will be held Saturday, June 16, at 1 p.m. at Riverside Community Church, Fourth and State streets in Hood River, with a reception to follow.