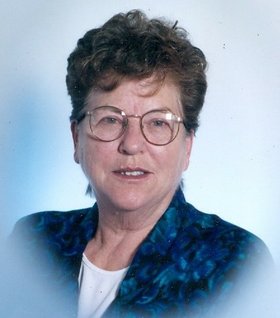 Rozelle Winston
August 5, 1932 - June 11, 2012
Rozelle Winston, 79, passed away June 11, 2012, at Ashley Manor in Hood River, Ore. She was born Aug. 5, 1932, in Needmore, N.C., the seventh of 15 children to Verlin and Martha DeHart.
She attended school in North Carolina until March 1944 when her family moved to Parkdale, Ore. There she attended Dukes Valley School until the ninth grade when she told her mom she wanted to stay with her family and work to help support the family.
She held various jobs during this time, some of which included leaving her family to live with her employers. One of her fondest memories was working and staying with Goldie Brown to help care for the Brown family.
Rozelle was introduced to her future husband by her brother-in-law, Jim Weseman. She married Kelly Winston in Hood River on Aug. 20, 1950, on his father's birthday. She then lived with her husband's family, caring for their home.
Rozelle and Kelly moved shortly before the birth of their first child to their home on Winston Road where she lived for the next 60 years. She worked with her husband remodeling their home extensively throughout their time together.
Her family fondly remembers the family drives throughout Hood River County and their picnic lunches, which included her famous potato salad and chocolate cake. Her huge gardens (vegetables and flowers, especially her clematises and lilies), long hours in the kitchen canning fruits and vegetables and the care for and milking of the family cow were all a testament to her hard work.
In addition to her household chores she also held various occupations within the fruit industry. She worked at school cafeterias and as a school custodian as well as a house cleaner (where she was always much more to the families than an employee). She worked as a waitress in a number of local restaurants such as the Country Club, Irene's Country Kitchen and The Sundowner.
Rozelle will especially be remembered for her lengthy career as a school bus driver for Hood River County where she was heard to say "When you start hauling the grandkids of your children you used to haul it's time to retire!" She then retired in December 1993.
In her retirement she enjoyed many years with her family, raising sheep and crocheting. She was a quiet, "Get the job done with no ceremony and get on with the next job" type of lady who was always working on one of her many projects.
At a time when most women are slowing down she found time for a new hobby; trail riding with her daughter and joining the Hood River Saddle Club. She also entered the world of horse breeding to assist her daughter and later with her own Tennessee walker.
She was loved and cared for in her last months by Heart of Hospice and the staff of Ashley Manor who will all miss her. It is the family's request that any memorials be made to Heart of Hospice, in care of Anderson's.
Rozelle is survived by and will be dearly missed by her husband Kelly, of Walla Walla, Wash.; son Tim (Teri), of Hood River; daughters Debbie (Kent) Berkey, of Enterprise, Ore., and Mary (David) Jacobs, of The Dalles; grandchildren Tony Winston, Tricia Losee, Kuyler Lang, Emily Lang, Tamara Smith, Livi Jacobs, Eric Jacobs and Kaleb Berkey; great-grandchildren, Tierney Winston, Jacob Smith, Keegan Losee, Destiny McAllister, McKenna Losee, Arianna McAllister, Bella Winston and Charlotte Lang; siblings, Robert DeHart of Hood River, Cleo Weseman of Parkdale, Buster DeHart, Wendell DeHart of Vancouver, Wash., and Stanley (Charlotte) DeHart of Parkdale; a number of nieces and nephews and a host of friends she has collected over the years.
In addition to her parents she was preceded in death by three siblings in their infancy; brothers Roy, Troy, Bruce and Vernon; sisters Leah and Maxine and the disappearance of son Eric.
A service to celebrate Rozelle's life and mourn her passing is planned for 1 p.m. Friday, June 15, at Anderson's Tribute Center, 1401 Belmont Ave., Hood River, OR 97031; 541-386-1000. Private graveside rites will be at the Pine Grove Butte Cemetery.
Please visit www.andersonstributecenter.com to leave a note of condolence for family.

Condolences are being received online.
Services Location
Anderson's Tribute Center
1401 Belmont Ave. Hood River, OR 97031
541-386-1000
Fax 541-386-7380