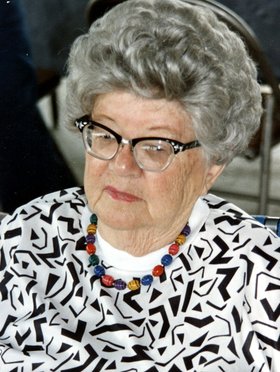 Alice Nancy Thelen
unknown - June 16, 2012
Alice Nancy (Ketchison) Thelen passed away of natural causes at the age of 98 on June 16, 2012, in Roseville, Calif.
In 1934 Alice and Grant left North Dakota for Hood River, Ore., with their oldest son Boyce and soon-to-be-son Gary. Kurt was born Dec. 10, 1948.
After her husband died Mom packed up after 67 years in Hood River and moved to Roseville, Calif., to be closer to her children Boyce (and his wife, Arkie), Gary (and his wife, Lois) and Norbert (and his wife, Judie), and Kurt Thelen of Deckers, Colo.
Mom and Dad loved to travel in their motor home, making three trips to Alaska, numerous trips to Arizona and back to North Dakota to see relatives.
Dad loved to fish and Mom was known to flush pheasants when the hunting dog had died.
Mom was known as the best cook in the family and could whip up an eight-person meal in no time.
Mother was blessed with four sons, five grandchildren, six great-grandchildren and three great-great-great-grandchildren.
Alice was preceded in death by her husband, Grant Thelen, in 1997; by her second son, Norbert Thelen, in 2001; and by her grandson Kevin M. Thelen in 2012. She was also preceded in death by her younger sister Lois Slegers and her younger brother Walter Ketchison.
Memorial services will be decided later.