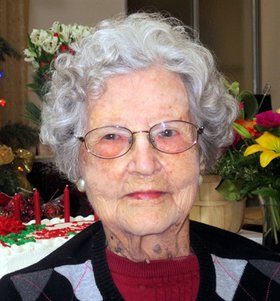 Luetta Frances Scherff
December 27, 1911 - March 14, 2012
Luetta Frances Scherff died on March 14, 2012, in Portland, Ore., of age-related causes with her family at her side. A seven-decade resident of Hood River, Luetta moved to Portland when health issues necessitated more care.
Born Dec. 27, 1911, in Jamestown, Mo., to Louis F. and Nettie A. (Oerly) Miller, Luetta graduated from Jamestown High School and went on to earn a bachelor's degree from the state teachers' college, now Central Missouri State University. She began her career teaching grades 1 through 8 in a one-room school house.
On June 27, 1936, Luetta married Winston R. Scherff. Not long after they traveled to Hood River to visit friends and decided to stay. Luetta obtained a teaching job at Pine Grove School, and later became the principal of Frankton School. Several years after their daughter was born, she went to work for Diamond Fruit in the cannery and occasionally substituted in the Hood River school system.
A longtime member of Asbury United Methodist Church, Luetta was a past president of Asbury's United Methodist Women's group. Until she moved from Hood River to Portland, she continued to be active in the church's Happy Hands program, which created and sold crafts and food items to raise money for various worthy causes. Having a knack for making divinity candy, which few possess, this item was sure to be sold out at church fund-raising events.
She also served for many years as a volunteer at the Hood River County Historical Museum.
Being far from relatives in Missouri, Luetta and Winston developed a local network of wonderful friends and acquaintances, some of whom became regulars around the holiday dinner table. Luetta had a true spirit of hospitality and her philosophy was feed guests bountifully and then feed them some more.
Outgoing and friendly, even during her later years the staff at the care facility continuously commented that she "was always smiling" and noted how pleasant she was to everyone. She personified the term "aging gracefully," facing the limitations that come with age without complaint. Her 100th birthday on Dec. 27, 2011, marked a life well lived.
Luetta is survived by her daughter, Winetta, son-in-law Ken Soderlind and much-loved granddaughter Rebecca. She is also survived by her brother, Louis F. Miller Jr., of Jamestown, Mo., and sister, Betty Massengale, of Jefferson City, Mo., as well as numerous nieces and nephews and their families and several cousins.
She was preceded in death by her husband, Winston, in 1987 and by a son who died at birth.
A memorial service will be held at Asbury Methodist Church on Saturday, March 24, at 2 p.m. with a reception to follow. There will be viewing at Anderson's Tribute Center on Friday, March 23, from 2-4 p.m.
For those wishing to make a memorial donation, it would have pleased Luetta to have it directed to Happy Hands, in care of Asbury Methodist Church, 616 State St., Hood River, OR 97031.
Our sincere thanks to the many friends, neighbors, church family, relatives and others who have been a treasured part of Luetta's life. Also our thanks to the staff at Crestview, who provided care with respect and tenderness during these past six years. You have all been a gift to her, as she was to all who knew her.
Though we know she is now safely in God's presence, we still will miss her greatly until we meet again.
Arrangements are under the direction of Anderson's Tribute Center (Funerals, Receptions, Cremations), 1401 Belmont Ave., Hood River, OR 97031; 541-386-1000. Please visit www.andersonstributecenter.com to leave a note of condolence for family.

Condolences are being received online.
Services Location
Anderson's Tribute Center
1401 Belmont Ave. Hood River, OR 97031
541-386-1000
Fax 541-386-7380