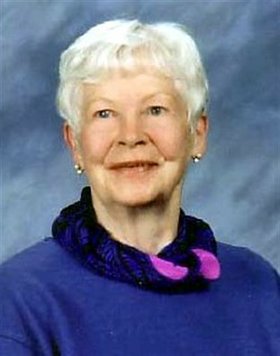 Margaret Marie Rogge
August 16, 1914 - March 3, 2012
Margaret Marie (Powers) Rogge, 97, of Duluth, Minn., passed away peacefully March 3, 2012, at home with her family by her side. Margaret was born Aug. 16, 1914, in Remer, Minn., to Charles and Marie (Eberline) Powers.
She married Frederick Rogge, where they resided in Duluth. She was a loving mother of three daughters and one son.
Margaret was very involved in PTA, Scouting, and the Women's Circle at Chester Park United Methodist Church.
She was an avid gardener, but most of all enjoyed being with her family at the lake cabin.
She was preceded in death by her loving husband of 46 years, Fred; and her beloved daughter, Jean Marie (Rogge) Tomlinson.
She is survived by her daughters, Patricia Rogge Mitchell Tombs and Kathleen Rogge Johnson; son, John (Susan) Rogge and son-in-law, Felix Tomlinson; 13 grandchildren and 21 great-grandchildren.
She will be sorely missed by those who knew her, but never forgotten.
A private family memorial will be held this summer.