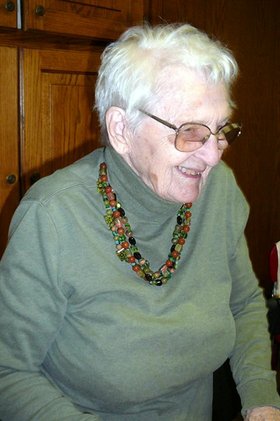 Lois Elaine Slegers
October 25, 1918 - April 26, 2012
Lois Elaine Slegers was born in a farmhouse near Milnor, N.D., on Oct. 25, 1918, to Walter L. and Nettie E. Ketcheson. She is currently residing with her Heavenly Father, Jesus.
She attended grade school at Sydna and high school at Milnor, where she played clarinet in the band and guard on the girls basketball team. After high school she worked a short stint in Chicago as a maid for a local doctor but returned to Milnor and her high school sweetheart, Peter "Pete" B. Slegers Jr.
Lois and Pete eloped to Stevenson, Wash., in a 1934 Model A. After visiting with her sister, Alice Thelen, of Hood River, Ore., they were married on Oct. 19, 1937, just one week before her 19th birthday.
Lois and Pete moved back to Milnor where they started a cattle trucking business and eventually their family. After they welcomed their fourth child they moved to Hood River, Ore., in 1948, where Pete went to work and later retired from Hines Lumber Company as a millwright and Lois from Diamond Fruit Growers.
They enjoyed several winters in Arizona until Pete passed away in 1996. Lois continued her sojourns to Yuma, where she loved the warm, dry climate and the beautiful desert country.
Finding a soul mate in a longtime friend, Bob Williams, the two were married in Yuma in February 2000. Unfortunately, she was widowed only six months later. Lois endured this tragedy through faith in Jesus.
She continued to winter in Arizona until she could no longer travel. Later she moved to Down Manor retirement home where many of her friends lived, then to Hawks Ridge Assisting Living Community, where she passed away April 26, 2012, at the age of 93.
Lois was a committed mother and a wonderful grandmother. She enjoyed camping, playing cards with her grandkids and family reunions. She learned to crochet as a young girl growing up on a farm and over the years has made approximately 150 afghans that will be cherished by family and friends.
Her mother taught her to grow and harvest a vegetable garden, which Lois enjoyed until she was 80 years of age. Freezing corn in August was always a family affair, with some of her children coming from 90 miles away to help (a prerequisite for enjoying the fruits of their labor). After retiring from vegetable gardening she invested her time in flowers, mostly dahlias and gladiolas.
Lois is survived and will be dearly missed by her four loving children: Richard (and Priscilla) Slegers, of Hood River, Ore., Janet Silliman, of Woodland, Wash., John (and Karen) Slegers, of Winthrop Harbor, Ill., and Steven (and Tink) Slegers, of Vancouver, Wash.; nine grandchildren, 26 great-grandchildren and four great-great-grandchildren.
Memorials may be made to your favorite charity in memory of Lois.
Services to honor Lois are planned for 1 p.m. Friday, May 4, with a time of viewing preceding from 9 a.m. to noon at Anderson's Tribute Center, 1401 Belmont Ave., Hood River. Celebrant speaker Bob Huskey will officiate. Graveside rites will follow at the Pine Grove Butte Cemetery.
Arrangements are under the direction of Anderson's Tribute Center (Funerals, Receptions, Cremations), 1401 Belmont Ave., Hood River, OR 97031; 541-386-1000.Please visit www.andersonstributecenter.com to leave a note of condolence for family.
Condolences are being received online.
Services Location
Anderson's Tribute Center
1401 Belmont Ave. Hood River, OR 97031
541-386-1000
Fax 541-386-7380