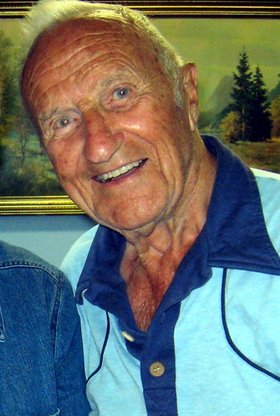 Joe "Pep" Dolezal
September 7, 1912 - May 7, 2012
Joe "Pep" Dolezal died at Lake Andes Health Care Center in Lake Andes, S.D., on May 7, 2012, at the age of 99 years and 8 months.
A burial will be held later at Evergreen Memorial Gardens Cemetery in Vancouver, Wash. Arrangements are under the direction of Koehn Bros. Funeral Home in Lake Andes, 605-487-7631.
Joe was born on Sept. 7, 1912, in Omaha, Neb., to Frank and Marie (Safranek) Dolezal. He graduated from South Omaha High School. He worked for the C.C.C. and moved to Oregon. After he was discharged from the C.C.C., he went to Canada to join the Canadian Army.
He married Muriel Tyson on Aug. 9, 1941, in Canada. He transferred to the U.S. Army after the Pearl Harbor bombing and served as a Merchant Marine in California.
Joe worked for the U.S. Fish and Wildlife Service as a fish culturist, and with the U.S. Army Corps of Engineers at the Bonneville Dam Hydraulic Laboratory as a laborer. He transferred as a navigation lock operator at Bonneville Dam, later as a navigation lock operator at Chittenden Navigation Locks in Ballard, Wash.
He enjoyed building things and raising bees, pigeons, sheep, calves and chickens. He was a member of the Masonic Lodge, Disabled American Veterans and VFW.
He is survived by his daughter, Joanne (Merritt) Stegmeier, of Lake Andes; son, John R. (Ladine) Dolezal, of Lake Andes; six grandchildren, and seven great-grandchildren.
He was preceded in death by his parents, wife, two sisters and two brothers.