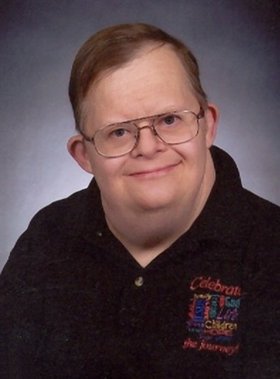 Kenneth Lynn Nelson
October 27, 1955 - May 13, 2012
Kenneth Lynn Nelson, 56, a longtime resident of Hood River, Ore., died Sunday, May 13, 2012. He was born in Wenatchee, Wash., Oct. 27, 1955, to Lynn and Lola Nelson.
He went to be with his Lord and Savior, on Mother's Day, Sunday, May 13, 2012. His mother passed away five years ago and he continued to mourn her death until his passing. How appropriate that he should leave this earth to be with his Mommy on Mother's Day.
He is survived by his sister and brother-in-law, Lauree and Bill Winfield, as well as many nieces, nephews and cousins.
He was preceded in death by his father, Lynn Nelson, mother, Lola Nelson Crews, and his stepfather, Bill Crews. Also preceding him in death are sisters Lynda Nelson, Marilyn Caanan and Karen Nelson, and brothers Allan Keating and Larry Keating.
Ken was raised on the family orchard where he loved playing with his dog and riding his go-cart. He attended Wenatchee Valley Schools.
Ken lived at Taylor Street House and was employed at Columbia Gorge Center for many years. These experiences allowed him to learn skills so that he could eventually live his dream. At the age of 39, his dream of living in his own apartment came true.
With the assistance of many wonderful caregivers, Ken was able to live in that apartment until the age of 55, when he was no longer healthy enough to be on his own. A great deal of credit must be given to the many wonderful caregivers who assisted him daily and allowed him to have his independence.
Ken was well-known in the community of Hood River. He spent lots of time having coffee at Rosauers, eating lunch at Shari's and shopping in the local Hood River stores on the Heights. While his parents lived at Hawks Ridge, he visited them on a daily basis and was affectionately known as the "Hawks Ridge Kid."
He was a member of the Hood River Church of the Nazarene where he loved to worship. He also had many friends at Hood River Valley Christian Church.
Ken loved Jesus, his Mommy, singing hymns and hearing Bible stories. In his earlier years he made many latch-hook rugs and pillows. He also loved chocolate cookies, potato salad, The Price is Right, Yahtzee, bingo, coffee, the American flag and going to activities and long rides with his beloved caregiver, Nancie, who cared for him for two and a half years.
He was a collector of hats, and anything that was associated with wrestling.
Ken lived the last few months of his life at Evergreen Nursing facility where his humor livened things up and gave them many laughs.
Services are planned for 1 p.m. Saturday, May 19, at the Hood River Church of the Nazarene, 2350 Belmont Drive, Hood River, with Pastor Joel Alsworth officiating. Private interment at Pine Grove Butte Cemetery of Hood River will follow.
Memorials may be given to the Hood River Church of the Nazarene or ARC of the Mid-Columbia, P.O. Box 521, The Dalles, OR 97058.
Arrangements are under the direction of Anderson's Tribute Center (Funerals, Receptions, Cremations), 1401 Belmont Ave., Hood River, OR 97031; 541-386-1000. Please visit www.andersonstributecenter.com to leave a note of condolence for family.

Condolences are being received online.
Services Location
Anderson's Tribute Center
1401 Belmont Ave. Hood River, OR 97031
541-386-1000
Fax 541-386-7380