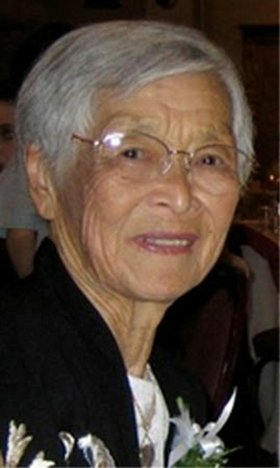 Marie Namba Asai
March 5, 1923 - May 10, 2012
Marie Namba Asai passed away peacefully in her home in Hood River, Ore., on May 10, 2012. She was born March 5, 1923, and grew up in Fairview, Ore. She attended Fairview Elementary, and graduated as valedictorian from Gresham High School in 1941.
Although Marie's ambition was to attend college, the fateful events of World War II forced her and her family to move to the Portland Assembly Center and months later to the Minidoka Relocation Center in Hunt, Idaho. Upon her return to Portland in 1946, Marie had a live-in domestic job and later worked for Jacoby Jewelers.
On Aug. 20, 1950, Marie married Taro (Tot) Asai and started a new life as an orchardist's wife in Hood River, Ore. Life was busy with the orchard, in-laws and raising four children.
Marie was a disciplined mother; assuring that the children practiced piano, learned the 4-H way, attended church, participated in sports and studied for college. She was also a "mom" and "grandma" to many others, including her 4-H girls, nieces, nephews and family friends.
Marie was proud that all her children graduated college, and thrilled to see two of her four granddaughters start their professional careers.
Marie was most at home in her garden and kitchen. Whether it was harvesting the strawberries for the next batch of jam or baking an apple pie in anticipation of company, Marie taught us the gift of giving. She was rich with family and friends and loved to spoil them with baked goods and home cooking. No visitor could escape without at least having a piece of pie.
Busy was an understatement for Marie's golden years. She was a sports club regular - yoga, Pilates, water aerobics, water polo and tai chi. She proudly stated, "I'm the oldest one in class, but do the best I can." She loved her 89th birthday party at the sports club and being crowned "Queen for the Day."
Marie's latest years were devoted to care giving; first to Tot during his battle with Alzheimer's and later as a friend or volunteer to many others. Those she touched knew that she understood their struggles as only a family member could. Marie's many years of volunteering were reciprocated in her final months as she succumbed to pulmonary fibrosis. Ever gracious to the end, she whispered, "Thank you" to each visitor.
Marie is survived by her sister, Emiko Kikkawa; daughters Marta Cannell (Phil Cannell), Tara Asai (Steve Gordon), and Janelle Asai (Jan Hordes); and son, Kevin Asai (Ilea Bouse); grandchildren Erica and Carly Cannell, Emily and Stephen Hordes and Kaylee and Douglas Asai; and many nieces, nephews, grand-nieces and grand-nephews.
A Celebration of Life will be held at the Mt. Hood Winery in Hood River, Ore., on June 2, from 6-9 p.m. In lieu of flowers, donations may be made to the Taro Asai Memorial Scholarship fund, Providence Hood River Memorial Foundation or Heart of Hospice.