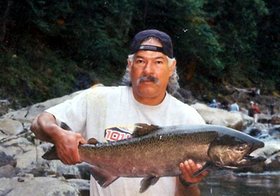 William "Bill" Allen Tellez
September 20, 1954 - May 13, 2012
William Allen "Bill" Tellez, 57, loving and devoted husband to his wife, Donna, and father to his son, Gregory, passed away peacefully in his home on Sunday, May 13, 2012, at approximately 3:55 p.m. He was surrounded by love and his family.
He was born Sept. 20, 1954, in Hollywood, Calif.
He was a longstanding member of the Hood River community, having worked at Safeway for 25 years (between The Dalles, Hood River and Astoria, Ore.). Bill was a hard-working individual throughout his working life and was well-liked and respected by the Safeway family and the Hood River community.
People liked Bill for his hard work ethic and his sense of humor. As a consequence, Bill will be truly missed by all who knew him and grew to love him.
Bill was a sports enthusiast and outdoorsman. Fishing and camping and participating in his son's sporting events were a way of life for him and his family. He never seemed to miss a game; be it baseball, football, basketball or soccer. He participated as a coach for soccer and became a respected basketball referee of high school basketball within the surrounding communities. He was known by some of Greg's friends and sports team members as "Papa Tellez."
Bill enjoyed and always looked forward to the annual "Thomas" family reunion held in La Pine, Ore. He loved to camp and in particular, loved steelhead and salmon fishing. Fishing the Hood or Klickitat rivers with his brother Larry were some of his most memorable outings.
Oh, and let's not forget the annual crabbing campouts or the fishing excursion on Trout Lake, where he nearly froze to death when he fell into the lake. Sports and the outdoors defined who Bill was and he enjoyed "living the dream."
Bill is preceded in death by his father, Fidel Tellez.
He is survived by his wife, Donna Rae; his only son, Gregory; his mother, Tangee Tellez; his brothers, Larry and Bruce Tellez; his sister-in-law, Alex (Bruce); his sister and brother-in-law, Kathy and Dave Leonard; his nephews, Jason, Christopher and Matthew Tellez; his mother- and father-in-law, Betty and Dave Thomas; his stepsons, Nick and Brandon Nelson; his brothers-in-law, Corey and Seth Thomas; and his aunt and godmother, Alice Vlachos.
Having been born and raised in Southern California, there are numerous aunts, uncles and cousins that are part of the Tellez family.
The family is inviting all his family and friends to reflect and celebrate his life with them Saturday, May 26, at 1 p.m. at the Hood River Valley Adult Center, 2010 Sterling Place, Hood River, for a potluck memorial.
Donations are encouraged to the Bill Tellez Memorial Fund and may be made in person or by mailing them to CenterPointe Community Bank, 2500 Cascade Ave., P.O. Box 270, Hood River, OR 97031.
Arrangements are under the direction of Anderson's Tribute Center (Funerals, Receptions, Cremations), 1401 Belmont Ave., Hood River, OR 97031; 541-386-1000. Please visit www.andersonstributecenter.com to leave a note of condolence for family.