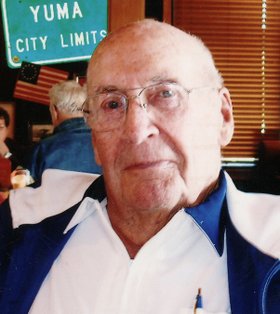 Clifford "Oren" Ingram
February 4, 1921 - May 12, 2012
Clifford "Oren" Ingram, 91, died Saturday, May 12, 2012, at his winter home in Yuma, Ariz., with his daughters and sister by his side, and pleasant thoughts of his son in his head. He was born Feb. 4, 1921, in Bedford, Iowa, to Clifford Herman Ingram and Corda Lucille Hutchinson.
Oren finished the eighth grade in Hood River, Ore., quitting school to help support his family. He married Nella Winter in February of 1942. They kept their marriage a secret from both of their parents until Nella graduated from high school in June.
The only person in on the little secret was Oren's sister and Nella's best friend, Opal. Nella would have been unable to attend and finish school if she were married, and they wanted to make sure they were married in case Oren was called up for service before she finished school.
Oren worked as a truck driver and laborer for various local delivery companies until he started his own various trucking and delivery firms. A few of his businesses were hauling sawdust for home heating throughout Hood River Valley, Oren Ingram Log Trucking, and Ingram Transport, which hauled products for Hood River Distillers.
He joined the Army during the early stages of World War II. The Army took advantage of his big-rig experience. He worked on various construction projects in Europe and North Africa during his years of service.
Oren liked to spend all of his free time with his family when he wasn't working. They would water ski, snowmobile, hunt, camp and have many, many family meals and picnics. He was also an avid cribbage player.
Once he retired, Nella and Oren would spend countless days and months traveling. They flew around the world, visiting numerous countries, and purchased the proverbial motor home their generation enjoyed. They traveled throughout the United States, visiting many historic sites and places.
He was a past member of the B.P.O. Elks, Veterans of Foreign Wars and the American Legion.
Survivors include his sister, Opal Ingram Oldham, of Yuma, Ariz.; son, Ken Ingram, and his wife, Sharon Herman Ingram, of Hood River; daughters Sue Ingram Fogle and her husband, Daryn Fogle, of Hood River, and Pat Ingram Tanner, of Hood River.
Also surviving are five grandchildren: Jarrod Fogle and Ashley Ogawa Fogle, of Hillsboro, Ore., Jeremy Fogle, stationed at Camp Hanson, Helmand Province, Afghanistan, Michelle Tanner Lamb and Jason Lamb (currently stationed at Camp Spin Boldak, Helmand Province, Afghanistan), of Copperas Cove, Texas, Jordan Fogle, of Hood River, and Luke Tanner, of Eugene, Ore.; and three great-grandchildren: Riley and Dakota Lamb and Brayden Fogle.
He was preceded in death by his wife, Nella.
No formal services are planned. Remembrances may be made to the Hood River Valley Adult Center, 2010 Sterling Place, Hood River, OR 97031.