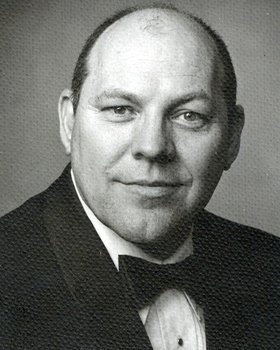 Conrad "Bill" Dene Griffith
April 21, 1931 - October 26, 2012
Conrad Dene Griffith, 81, known by all as Bill Griffith, a life-long Hood River resident, teacher and active community member, passed away Oct. 26, 2012, at his home surrounded by his loving family.
This is Bill's story as written a few years back:
"Once upon a time there was a man named Bill Griffith. He was born in Hood River, Ore., on April 21, 1931, and spent his childhood in the valley. He graduated from Hood River High School in 1949 and headed for Oregon State College (now Oregon State University).
In March of 1953 he married Wanita Sherrell. Then in June of 1953 he graduated from OSC with a degree in education as a physical science major.
Without much of a break, he began teaching at Mid Valley.
To add to his busy life, there was a new addition to their family: Their first son, Gary, was born in December of 1953. Six months later Bill entered active duty in the United States Air Force during the Korean police action as intercept controller.
On Nov. 22, 1955, their second son, Rich, was born, but Bill wasn't discharged until June of 1956. Three months later he resumed teaching at Parkdale Upper and coached on the side.
The next year, 1957, was a busy year for Bill, He began teaching at Wy'east High School, his third son, David, was born, and he was working toward his master's in education. It wasn't until 1961 that he received his master's degree in science.
Then in 1963, Bill received a National Science Foundation grant to attend Highlands University in Las Vegas, N.M. He studied new science curriculums, many of which he introduced at Wy'east High School.
From 1967-1970 Bill had 12 students who were finalists in the Westinghouse Science Talent Search. A pretty impressive achievement, considering only 10 are selected from the state each year. Also in 1970 Bill began teaching at Hood River Valley High School and received a very high honor — the OMSI High School Science Teacher of the Year award. Engraved on the trophy was "Conrad D." Griffith — who instills in students a love and respect for science — a good teacher affects eternity."
Bill had a reputation for being strict and serious about his teaching. He made it plain that class time was for work, not for play. Students would ask, "Do I have to do it?" Bill would say, "No, you don't have to, but if you don't I won't have anything to grade, and if I don't have anything to grade I can only record zeros and zeros don't add up very fast."
Even though Bill was strict, many students felt free to phone him at night and even stop by the house for help on their homework. Many of the boys felt free to stop by the house to visit, play cards, play pool and inhale snacks. Sometimes up to 25 boys would end up in the Griffith house to unwind, but Bill seemed to enjoy every minute of it.
Besides teaching, Bill had other outside interests. One very important involvement was the Elks Club. Bill worked his way through the chairs and served as Exalted Ruler in 1984. In 1985 he was elected a trustee and asked to be State Ritual Committeeman. He enjoyed working with the Elk members and he looked forward to the playtime, too.
He loved to dance. Anytime there was a social function with music, you could be sure to see Bill and Nita on the dance floor kicking up their heels. He was also head of the Elks' serving crew for many years and served on the Hood River City Council.
Now that Bill is retired, many have asked him of his plans. One of his hopes is to get in some fishing, since he has had little free time with his busy schedule. But we hear that Nita says she has got a big list of "Honey Do" jobs that have to be done before "Bill can go out and play."
Bill is survived and will be dearly missed by his wife, Wanita Ellen, "Nita" Griffith, of Hood River; children and their spouses: Gary and Susan Griffith, of Hood River, Richard and Diana Griffith, of The Dalles, Ore., and David and Heidi Griffith, of Trout Lake, Wash.; six grandchildren: Kyle Griffith, of Laguna Beach, Calif., Cody and Allison Griffith, of Kent, Wash., Blake Griffith, of White Salmon, Wash., Kelsey Griffith, of Billings, Mont., Rachel and Heriberto Huerta, of Underwood, Wash., and Kacie Griffith, of The Dalles; two sisters, Sharon Peterson, of New York, and Gayle Faye, of Eugene, Ore.; many nieces, nephews and special niece Pat, and her husband, Lonnie Roth; and a host of friends that he has collected over the years.
He was preceded in death by his parents, Allen Weir Griffith and Loutina Nathalina (Mull) Griffith.
Memorials are encouraged to be made in Bill's name to the Hood River Elks Lodge for a special fund that his son Gary will administer where his father would've wanted it to go.
Services are planned for 2 p.m. Sunday, Nov. 4, at Anderson's Tribute Center, 1401 Belmont Ave., Hood River. Family friend and celebrant speaker Bob Huskey will officiate; military rites performed by the Oregon Honors Team and fraternal rites by the Elks Lodge. A reception will follow the service, then entombment at 4 p.m. at Idlewilde Mausoleum.
Please visit www.andersonstributecenter.com to leave a note of condolence for family.

Condolences are being received online.