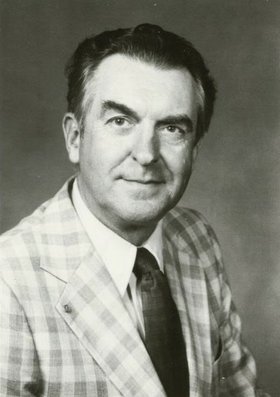 John Emil Halver III
April 21, 1922 - October 24, 2012
Dr. John Emil Halver III, world-renowned scientist, passed away suddenly and peacefully on Oct. 24, 2012. A Celebration of Life will be held on Saturday, Nov. 10, at 1:30 p.m. at Bothell United Methodist Church, 18515 92nd Ave. N.E., Bothell, Wash.
He was born April 21, 1922.
Dr. Halver was married to Jane Loren of Tacoma, Wash., his bride for over 68 years, and together they have five children, 12 grandchildren and four great-grandchildren. Throughout the years, John and Jane also opened their home to numerous international students.
Dr. Halver was an eminent nutritional biochemist who was honored as "One of the Leading Scientists of the World" in 2005, for a lifetime of research in nutritional biochemistry, by the International Biographical Center in Cambridge, England. At the time of his death at age 90, he was still actively lecturing and consulting around the world.
A devout, lifelong Christian, John spent his life confirming his belief that "There is no conflict between science and theology. Science is pursuing truth, and God is the author of Truth."
John Halver received a Bachelor of Science degree in chemistry from Washington State College in 1944. He then was called to active duty in Europe with the U.S. Army as an infantry officer, returning from World War II as a captain and a decorated soldier, having earned a Bronze Star with Oak Leaf Cluster, Purple Heart, American Theatre Service Medal, European African Middle Eastern Service Medal with 2 Bronze Stars, World War II Victory Medal, Army of Occupation (Germany), Combat Infantry Badge, and the Croix d Honneur from France. Later he also received the Citoyen d'Honneur from France.
After World War II, Dr. Halver earned a Master of Science degree in organic chemistry from Washington State College and a Ph.D. in medical biochemistry from the University of Washington, after studies in nutrition at Purdue University.
Dr. Halver was the director of research for the National Fish and Wildlife Service, and as such, built and oversaw five laboratories throughout the Northwest. Using aquaculture (fish) as his experimental animal, he developed the standard test diet H440 (which stood for Halver, 440th try) resulting in the nutritional standards used worldwide for salmonids and all fish. He also worked on nutritional studies for other animals, including humans.
Dr. Halver was promoted to senior scientist in nutrition for the Fish and Wildlife Service, and in 1976 he joined the faculty at the University of Washington as professor of nutrition. He served as U.S. Science Ambassador to the World under four U.S. presidents, as well as a private consultant to more than 90 countries throughout the world.
Dr. Halver was inducted into the National Academy of Sciences of the United States, the New York Academy of Sciences, the Washington State Academy of Science and the Hungarian Academy of Sciences, and received numerous accolades from around the world, including the Makila d'Honeur from Spain. He published more than 200 scientific articles and wrote several scientific books and was inducted into the Fisheries Hall of Fame as "The Father of Fish Nutrition."
He was an avid hunter, a member of Rotary, the United Methodist Church, and Reserve Officers Association. In his spare time he loved producing and perfecting his hybrid merlot wine.
Memorials may be sent to the charity of your choice, or to the John E. Halver Fellowship, School of Aquatic & Fishery Sciences, 1120 Boat St., University of Washington; Seattle, WA 98195. For the full obituary and guestbook, see online at www.funerals.coop.