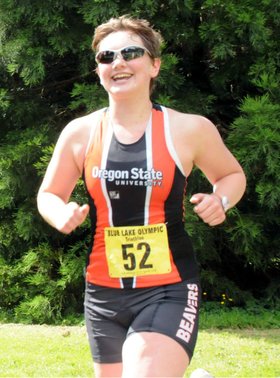 Carin Norris
unknown - November 3, 2012
Carin Norris died on Saturday, Nov. 3, 2012. Carin was the 19-year-old daughter of Bill and Lisa Norris of Hood River. Carin was part of a large, complex, extended family.
On a rainy day when she was 6 years old, Carin met Lisa and Hannah Hurley while swimming at the Hood River pool with her sister Celeah and Bill. While walking away from the pool, shortly after saying goodbye to Lisa and Hannah, her dad asked her, "Maybe we should ask them if they would like to go out to eat?" Carin's exuberance and love for family carried her faster than Bill's awkward caution. She flew to Lisa's car and beat her dad in asking his future wife out on their first date.
Bill was the beneficiary of his accidental brilliance because Lisa was rendered powerless by Carin's nascent desire to drive her family forward. Carin and Celeah added Hannah to their sisterhood soon thereafter. They were eventually joined in sisterhood by Emma the biological daughter of both Bill and Lisa. Carin continued to use the strength of her personality to be a positive role model for her younger sisters, one of her dearest objectives.
Carin graduated from Silverton High School, where she lived with her natural born mother, Julie Norris. She captained Silverton's cross country and swim teams in high school, expressed her inner nerd as a robotics team member, where she developed a budding appreciation for her future love.
During high school, Carin simultaneously embraced robotics team geekdom, academic achievement, athletic prowess and artistic flair with her acting, painting and writing. She registered for her first Olympic triathlon and began training for that event that soon followed her graduation.
Carin developed a hip injury in high school that affected her running and eventually required surgery. No stranger to overcoming adversity, Carin worked hard on her physical therapy following surgery. Despite her hard work, she was still plagued with hip pain when she came to Hood River for the summer almost a year following her surgery.
Carin was planning to run Hood to Coast at the end of that summer but began to question if her hip would allow it. She entered a training regime with Tom Moline at Gorge Sports and Spine Medicine and later ran Hood to Coast with Bill, Lisa and her sister Hannah Hurley by the end of the summer. Through that experience, she became interested in pursuing an education in physical therapy.
In fall 2011 Carin began attending the honors college at Oregon State University, studying pre-physical therapy. As a member of the OSU Triathlon Club, she extended her passion for action and challenge.
Carin began dating her apparent soulmate, Xander Harris, that same fall, moving beyond his status as the supportive boy-next-door and founder of her high school robotics team. Their relationship bloomed and they became a beautiful couple. They both spent the summer in Hood River in 2012 while Carin completed an internship at Gorge Sports and Spine Medicine. The love, care, and happiness that they expressed together was extraordinary for a couple of any age, yet, they were only 19 years old.
Xander, a student at Reed College, accompanied Carin on her last ride — a training ride for the OSU triathlon club. They approached a steep hill, which was a challenging piece of terrain for Carin. They climbed the hill together. Carin struggled, but persevered as was typical of her character. As they approached the top of the hill she told Xander, "I love you." Xander replied, "I love you too."
At the top of the hill the group decided on their route down, and were warned about a greater than 90-degree bend near the bottom of the hill. The ride leader told them to watch their speed and watch out for leaves that could cause tires to slip. Xander was right behind her when it happened. Carin was banked into the turn and a car was approaching from the opposite direction. Carin lost control of her bike and went into the car's path and was killed near-instantaneously.
Carin Norris was as magical and successful as any human being could hope to be. She learned to recognize her strengths and weaknesses and diligently worked on her weaknesses until they became strengths. The short list of her diverse interests included: ball room dancing, art, poetry, reading, camping, hiking, skiing and above all, being with her family.
Carin expressed beauty, dignity and grace in living life to its fullest. Her example shows us there is nothing more precious than a life well lived.
A commemoration of Carin's life will be held at Silverton High School, at noon Nov. 10, and in Hood River on Nov. 11. The Hood River commemoration will include two events:
A Lost Lake celebration of Carin's life will be at 11 a.m. Nov. 11 at the organization site (past F loop; gates are open). Fairy garb is encouraged (she loved her Lost Lake fairies). An additional, less-intrepid gathering will be held at the Crag Rats Hut, on Crag Rat Road at 3 p.m. Nov. 11.