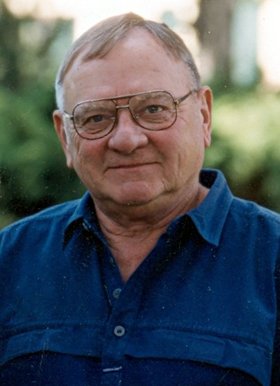 William "Bill" Charles Laraway
July 22, 1923 - November 3, 2012
William "Bill" Charles Laraway, 89, a life-long Hood River resident, passed away at his home surrounded by his family on Nov. 3, 2012. Bill was born July 22, 1923, in Hood River, Ore., the only child born to Percy B. and Grace (Turney) Laraway.
He grew up in the Hood River Valley working in the family orchards. He attended Pine Grove Elementary School and graduated from Hood River High School, Class of 1941.
During his freshman year of high school he met Zella Hendricks and they had their first date on Feb. 14, 1938. They were married July 26, 1942, and have danced together for the last 70 years.
Bill served our country proudly during World War II in the United States Navy. Zella remembers traveling around the country with Bill while he was in the service, either at his base stations or while in training and school. He was a diesel engineer on the YMS331 mine sweeper, and served in the South Pacific at Okinawa, The Philippines, and was part of the post-war mine clean-up, sweeping Japanese harbors.
It was a few years ago while visiting the Northwestern tip of the Washington coast that he found one of his old Navy ships that was reclaimed and is now used as a fishing boat. The captain gave him a tour — it was on this tour that Bill was invited to go down below with the ship's engineer, who asked him, "You want to start 'em up?" It was a moving moment for Bill.
After the War, Bill and Zella returned to the Hood River Valley to work the family orchards, which was his passion. They were blessed with four children over the years: Janet, Jim, Joe and Jon.
Bill was very active in the Hood River Valley and the Pine Grove community. He was a charter member of the Pine Grove Volunteer Fire Department and with his expertise in the service as a diesel engineer, he not only helped find the fire department's first fire engine but also helped maintain it over the years.
Bill was a member of Riverside Community Church, where he served on the board of trustees and Diaconate. He has been a valuable resource for local orchardists over the years and was a leader in bringing frost fans to the valley. He was awarded the Outstanding Orchardist of the Year title for Hood River County in 1958 by the local Jaycee organization.
His knowledge of the history of the Hood River Valley was rich. He loved to recall and share stories of the past.
Bill was a member of the Hood River Traffic Association, which is now Columbia Fruit Growers, American Legion, B.P.O.E. (Elks Club life member), Hood River Saddle Club and The Dalles Country Club; he was a Boy Scout leader, Hood River History Museum volunteer, and served on the Hood River County School Board from 1954-1958, during the construction of Wy'east High School (now the middle school) and Mid Valley Elementary School.
As the family grew they enjoyed many outdoor activities including camping, fishing, hunting, boating, motorcycle riding, snow and water skiing and vintage car collecting. Bill was a ski instructor at Cooper Spur and was instrumental in research and permitting for the development of Mt. Hood Meadows. He was a member of the Mt. Hood Meadows Ski Patrol.
In his late 40s Bill discovered golf and Zella learned to play in self-defense. That became an avenue for many golf outings and social friendships through the years. Bill's hole-in-one at Agate Beach Golf Course, after many years of golfing, was a special ace.
With many good friends and family, Bill and Zella enjoyed traveling and shared many wonderful trips. Hawaii was a favorite destination, along with Europe and the Mediterranean. In retirement they became "snowbirds," wintering in Southern California and Arizona.
Bill is survived and will be dearly missed by his wife, Zella, of Hood River; children and their spouses: Janet and Leonard Wood, of Hood River, Joe Laraway, of Hood River, Jim Laraway, of Underwood, Wash., and Jon and Debra Laraway, of Hood River; eight grandchildren: Wendy and Joseph Burrow and Bill Laraway Jr. and Lori of Portland, Julie and Shane Wilson, of Hood River, Jennifer and Toby Hutchinson, of Dundee, Adam and Julieann Laraway, of Santa Clarita, Calif., Bryan Laraway, of Portland, Sean Laraway, of Palmdale, Calif., and Justine Laraway and Charles Foote, of Hood River; nine great-grandchildren and a host of distant family and many, many friends that Bill and Zella have collected over the years.
In addition to his parents, his half-sister, Adah L. Hayes, and daughter-in-law, Joe's wife, Beverlee Laraway, preceded Bill in death.
A time to celebrate Bill's life is planned for 2 p.m. Friday, Nov. 9, at the Mt. Hood Winery. Graveside rites with military honors will precede the Celebration of Life gathering at Pine Grove Butte Cemetery.
Memorials may be made in Bill's name to The Pine Grove Fire Department or The American Red Cross and sent care of Anderson's.
Arrangements are under the direction of Anderson's Tribute Center (Funerals, Receptions, Cremations), 1401 Belmont Ave., Hood River, OR 97031; 541-386-1000. Please visit www.andersonstributecenter.com to leave a note of condolence for family.

Condolences are being received online.