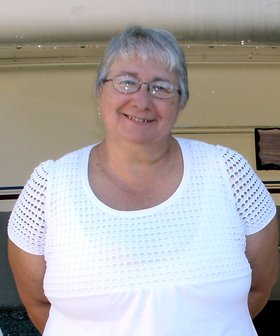 Debra "Debi" Sue Douglas
August 4, 1956 - November 8, 2012
Debra Sue Douglas (Roberts) joined her Lord and Savior on Nov. 8, 2012. Debi was born on Aug. 4, 1956, in Miami, Okla., to Howard and June Roberts. She lived most of her childhood and teenage years in Hood River, Ore., and was a 1974 graduate of Hood River Valley High School.
She was a member of Mount Hood Assembly of God Church, and it was there at age 13 that she met who was to become her future husband, Larry Douglas. Then in 2005 when Larry and Deb moved back to Hood River they became members of River of Life Assembly.
Debi graduated from Central Washington College in 1979 with a bachelor's degree in education. She moved to Nevada, Mo., the following year, where she taught home economics. She later worked for 3M Co.
Debi became reacquainted with her high school sweetheart in 1995, and she and Larry were married on Jan. 3, 1997. She and Larry moved to Dallas, Texas, where she taught in Plano High School, but both knew that Oregon was their home and they moved back to Oregon in 2000.
Debi and Larry worked in property management for several years which eventually led to moving back "home" to Hood River in 2005.
Debi worked as a cook at Hawks Ridge Assisted Living and later moved to Providence Down Manor as a cook supervisor. She often noted that she felt the Lord had led her to service for the elderly, and she loved "her" residents dearly. Debi retired in 2009.
She loved her church and was known by her church members for her wonderful smile, her love of life and her service for the Lord. She was an avid reader, and she loved arts and crafts, recently becoming involved in making jewelry.
Debi enjoyed a lifelong walk with her Lord, and she now continues her walk alongside Jesus.
Debi is survived by her husband, Larry Douglas, of The Dalles, Ore.; two sons: Joshua Huppe, of Portland, Ore., and James Huppe-Rapp, of Rich Hill, Mo.; her stepchildren: Michael (and Kimberley) Douglas, of Phoenix, Ariz., and Kellie (and Curtis) Kaesche, of Reno, Nev.; her father and mother, Howard and June Roberts, of Grove, Okla.; her sister, Ireva (and Mark) Odegaard, of The Dalles; and her brothers Royden (and Sandi) Roberts, Calvin (and Kathy) Roberts and Keith Roberts, of Grove, Okla.
Debi loved her grandchildren, Torrie, Jordan, Cameron, Alexis, Chloe, Brooklyn, Carter and Austin, and all of her nephews and nieces. Debi truly was a blessing to her family, loved ones and those who knew her.
A Celebration of Life service will be held Dec. 15 at River of Life Assembly of God Church in Hood River, at 10:30 a.m. with a reception following.
Donations in Debi's memory may be sent to the River of Life Assembly of God Church, 979 Tucker Road, Hood River, OR 97031; 541-386-3656.