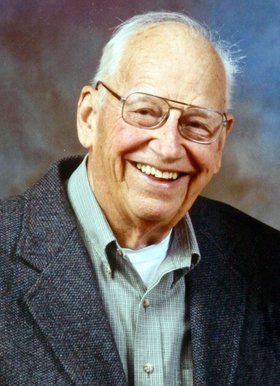 Thomas Eugene Cochran
October 7, 1927 - November 8, 2012
Thomas Eugene Cochran was born Oct. 7, 1927, in Council Bluffs, Iowa, and passed away Nov. 8, 2012, in Underwood, Wash.
Tom Cochran was an Iowa farm boy who loved the woods, his Lord and a good adventure. He had a superlative sense of humor that ran the gamut from bawdy to sophisticated. His laugh was contagious and his intellect sharp and curious.
The day after he graduated from high school, and only 17, he joined the U.S. Coast Guard. Those were the waning months of World War II but Tom wanted to be part of it. He served as helmsman onboard the frigate USS Brunswick in the North Atlantic and was proud to have brought her into Boston Harbor.
Tom worked his way through Iowa State University on the GI Bill. With a newly printed degree in Forest Management, he took his young bride, and newborn daughter, west to the vast timberlands of the Pacific Northwest where he lived for the rest of his life. For 40 years he worked in various aspects of forestry and reforestation.
Tom never tired of time in the woods, nor of its creatures, and humbling beauty. He could identify almost any species of tree, often with its Latin name, and volunteered to teach students in schools and scouts how to distinguish between a cedar and spruce.
A man of many interests, Tom had a wide range of passions, all of which he approached with great enthusiasm and concentrated study, but none more so than flying. He earned his pilot's license at age 46 and took to the skies.
He loved antique airplanes and owned several beauties, including two Stearman biplanes and a Fairchild 24. His planes won awards at air shows for "Best Warbird" and "Best Vintage Aircraft."
Once, while leaving the Pearson Air Field in Vancouver, Tom radioed a request to fly through air space controlled by the Portland tower. He was tickled to hear pilots of a commercial jetliner ask for a delayed take-off so they could watch him fly over in his open cockpit double-winger.
He loved to take people for a flight! Tom flew hundreds of hours with keenness, vigilance and confidence until health issues grounded him in 1998.
Most of all, Tom loved Joanne, his wife of nearly 62 years. They met on a train heading to Iowa State in the fall of 1949 and married a year later. Theirs was a happy marriage with a great deal of give and take, laughter, respect and love. They were the proud parents of four children, Patricia, Dale, Nancy and Carol. They gave the kids a marvelous childhood.
Tom hand-built a home, of his own design, on a 28-acre tree farm where he supported his children's interests in 4-H beef, homing pigeons, sports, horses, and a myriad of other passing fancies. He was a firm advocate of higher education and a staunch supporter of collegiate pursuits, not only for his children but, in later years, for his grandchildren.
Tom was an active and devote lifetime member of the Missouri Synod Lutheran Church, the Society of American Foresters, Quiet Birdmen, American Legion, Antique Aircraft Association, Hood River Art Club and National Rifle Association.
He is survived by his wife, Joanne; daughters Pat (Del) and Carol (Al), and son Dale (Carol), sister Faye, grandchildren Leslie, Tom, Tyson, Brian, Becky, Megan, Emily, Shannon and Evan, and six great-granddaughters, as well as loving nieces and nephews.
Tom was preceded in death by his parents, Donald and Grace; his brother Grant, daughter Nancy and granddaughter Allison.
The family has suggested the Celilo Cancer Center (1800 E. 19th St., The Dalles, OR 97058 or mcmc.net/clinics/celilo) or Immanuel Lutheran Church (305 Ninth St., Hood River, OR 97031) for those wishing to remember Tom through a contribution in his name.
Arrangements are under the direction of Anderson's Tribute Center (Funerals, Receptions, Cremations), 1401 Belmont Ave., Hood River, OR 97031; 541-386-1000. Please visit www.andersonstributecenter.com to leave a note of condolence for family.

Condolences are being received online.