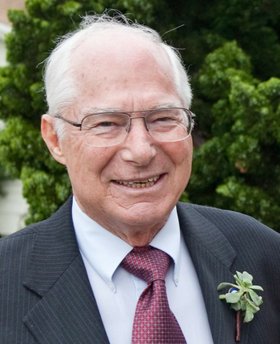 William "Bill" Joseph Frost
January 22, 1927 - November 7, 2012
William Joseph "Bill" Frost passed away peacefully the night of Nov. 7, 2012, at his home in Hood River, Ore., with his son, Mike, and daughter, Lynn, holding his hands. He was a man of great faith and demonstrated that by generously giving his time, energy and resources to honor God and love people.
A service to mourn Bill's passing and celebrate his life is planned for 11 a.m. Tuesday, Nov. 20, at the First Baptist Church, Hood River, Ore.
Bill was born in Springfield, Ill., on Jan. 22, 1927, to Wilford and Sarah Frost. The family moved to Orange County, Calif., to find work during the Depression. "Billy" was the youngest of the four brothers, joining Wilford Jr., Lewis and Burt, and three sisters; Lucille, Ruth and Betty.
Some of the childhood stories he shared were of never wearing shoes, boxing matches in the yard and being a Boy Scout earning the Eagle Scout badge. He graduated from Huntington Beach High School mid-year and was immediately drafted into the U.S. Army in January 1945.
While on the ship to Japan the bomb was dropped, so he served during the occupation. While deployed, Bill broke his back in an accident and following his recovery was released.
He returned to California and attended Fullerton Junior College to become a land surveyor and played football. He started an ice delivery business with a friend, Cliff Bonner. Their biggest customer was Walter Knott, who owned the now-famous Knott's Berry Farm.
Bill met his wife, Jackie Brown, at the beach. They dated less than a year. One week after they were baptized, they were married on March 23, 1951, in the First Christian Church.
Bill built a successful career as a surveyor in Southern California. He was the chief of party for the National Boy Scout Jamboree camp site which is now Jamboree Road in Newport Beach, Calif., followed by his survey work on the original Disneyland in Anaheim. He later became a partner of the surveying and land planning company RBF (Robert Bein and William Frost) Consultants.
Though Bill was busy in his career, family and church life were his top priority. Bill and Jackie helped start two churches, Camille Christian Church in Santa Ana in the early 1950s and Harbor Christian Church in Newport Beach in the early 1960s.
Family and friends gathered often in their home for barbecues or at the beach for cook-outs. The main course often featured fresh fish, lobster or abalone, depending on what Bill's last skin-dive or fishing trip provided. Bill worked hard and played hard.
Bill and Jackie lived in Orange County, Calif., until 1982, when they moved to the Cooper Spur Ranch in Parkdale, Ore., to fulfill a dream of operating a cattle ranch in the country. An avid John Wayne fan, Bill loved the western lifestyle. Jackie and Bill enjoyed the great adventure of life in the country and made many fond memories, but decided to move "to town" and in 1992 they relocated into Hood River.
After the ranch, Bill wasn't ready to retire and he spent time working in Real Estate for Hershner & Bell realty. He was active at the First Baptist Church and was instrumental in helping Horizon School establish its Pacific Avenue campus. Bill also served on the board of directors for Opportunity Connections.
Spending time with his grandchildren, golfing with his neighbor, or taking his wife out for lunch, Bill liked to stay busy. Bill and Jackie enjoy some amazing travels together in recent years.
Bill is survived by his daughters, Lynn M. Snyder and her husband, Don, of Costa Mesa, Calif., and Christine S. Frost, of Hood River, Ore.; sons Michael W. Frost and his wife, Susan, of Hood River, and Kurtis J. Frost; grandchildren, Laura L. Wittmeyer, Sara C. Snyder and her husband, Pierre Comizzoli, Heather M. Brady and her husband, Jason Brady, Matthew W. Snyder, Lauren A. Munk and her husband, James Munk, Michael J. Frost and James D. Frost; great-granddaughter Ada Comizzoli, great-grandson, Elio Comizzoli, and numerous other distant family and many, many friends.
He was preceded in death by his wife, Jackie Frost; his parents, Wilford and Sarah Frost, his brothers Sonny and Burt and sisters Lucille and Ruth.
Arrangements are under the direction of Anderson's Tribute Center (Funerals, Receptions, Cremations), 1401 Belmont Ave., Hood River, OR 97031; 541-386-1000. Please visit www.andersonstributecenter.com to leave a note of condolence for family.

Condolences are being received online.