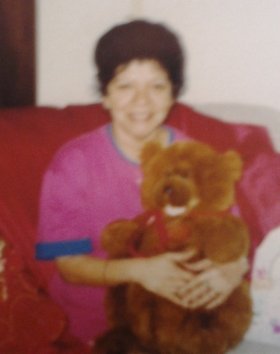 Geraldine "Ita" Farias
July 5, 1948 - November 13, 2012
Geraldine "Ita" Farias died Nov. 13, 2012, in Odell, Ore. Geri was born to Raymond Silva Guerrero and Martha Tafoya on July 5, 1948, in Merced, Calif.
She did not go down without a fight and held on as long as she could for her grandchildren. Her untimely death leaves her entire family grieving and heartbroken.
Geri grew up in Merced. To her father, she was known as "Trudy." She was raised by her loving grandmother, Maria Catalina Silva, and knew her only as "Mom."
Geri met the love of her life, Daniel Farias, and in 1972 the family moved to Hood River, Ore. It was always just the four of them, Mom, Pop, David and Robert.
After more than 30 years at Diamond Fruit, Geri retired in 2003 to have more time with her family. She loved to crochet, loved rock-n-roll, crossword puzzles and little game gadgets. She was an excellent cook. Her sons loved her homemade tortillas and her grandkids loved chocolate fudge and Jello eggs.
She spoiled her four grandchildren; especially at holidays. She loved hanging out with them and took them on "Special Outings" with Ita.
Geri is survived by her loving husband, Daniel Farias; her sons and daughters-in-law: David and Pam Sanchez and Robert and Brenda Sanchez; her four grandchildren: Electra, Daniel, Madison and Sonja; her furry companions Mono, Kookie2 and Frosty; and cousin "sister" Betty Santillo.
She was preceded in death by her father, Raymond Silva Guerrero; her best friend, Sadie Matthews; and her special Kookie1.
We will not say goodbye but we will "see ya."
The family wishes to thank the following for their care and compassion during this difficult time: Odell Fire Department, Yasui Dialysis Center, Providence Hood River Memorial Hospital, Dr. Gay, the Albiston family and Tum-A-Lum Lumber.
Special thanks go to Alex at Andersen's Funeral Home; with his tender touch our difficult time was made more bearable; and to the Odell Fire Department: You took us under your wings in the early morning hours and watched over us. Thank you all so very much.