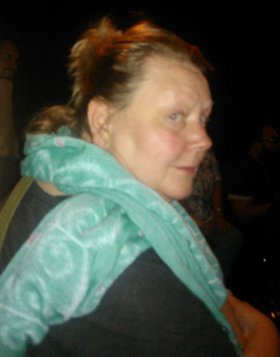 Althea Hukari
February 14, 1958 - September 5, 2012
Althea Hukari passed away on Wednesday, Sept. 5, 2012, at Evergreen Hospital in Kirkland, Wash. She was visiting friends in Seattle when she became critically ill and was hospitalized.
Althea courageously and poetically fought breast cancer for the last 16 years. She chronicled her most recent battle in her blog: Buddha and The Big C. Althea considered herself a Writer/Dreamer/Survivor.
Althea Hukari was born in Hood River, Ore., on Feb. 14, 1958, to Rob and Helen Hukari. She was a writer from an early age, having first been published in the Hood River News as a second grader writing a Christmas puppy story.
Althea graduated from Oberlin College with a BA in Theater Arts. She attended the University of Washington Professional Actors Training Program and went on to become an award-winning playwright and passionate teacher.
Althea worked as an actor, director, acting teacher and coach in Seattle for more than 10 years before returning to Hood River. She performed with Book-It Repertory Theater. She also taught at Freehold Theater for many years and was an adjunct faculty member at Cornish College of the Arts.
In Hood River, Althea worked with the Haven Project, The Bridge Project, Hood River Community Education, The Dalles Middle School, and most recently with the Peace Village.
Althea participated in many writing groups. She was a founding member of the PlayGroup at Portland Center Stage from 2003-09. Her play "My Own Private Masha" was presented at the Seattle Fringe Theater in 1998 and secured her an Artist Grant from the Seattle Arts Commission.
The resulting play, "The Orchard," won an Oregon Literary Fellowship, Coho Theatre's Fresh Northwest New Work Award, and was featured in Portland in 2009. Althea believed "the purpose of theater is the education of the human soul."
Althea spoke at the Portland Susan G. Komen Breast Cancer Issues conference in 2011. The session was entitled, "I Am Not Just My Disease," focusing on the lives of those with metastatic breast cancer. At Celilo Cancer Center in The Dalles, Althea spoke to a support group of those with breast cancer about sharing your story. Her passion was to let women share their experiences without judgment or comment and for those hearing the story to just listen.
Althea's long-term meditation practice included a mindfulness practice as well. In the last few years, her mindfulness became so accomplished it included every word, every action and every thought she had. Her Buddhist beliefs were her foundation for her life.
While she struggled with cancer, she became peaceful and aware of what was truly important to her. She loved the words by Jon Kabat-zinn, "You can't stop the waves, but you can learn to surf," and by the Dalai Lama, "Be kind whenever possible. It is always possible."
Althea was preceded in death by her parents, Helen Hukari (1989) and Rob Hukari (2008).
She is survived by her sisters Lori Hukari, of Hood River, Martta Roach, of New Market, Md., and Mandy Budwill, of Kenmore, Wash.; and niece Amy Budwill and nephew Alex Budwill, of Seattle. She will be greatly missed by family, friends, and colleagues.
"It is not often that someone comes along who is a true friend and a good writer. Althea was both." (Adapted from "Charlotte's Web," by E.B. White.)
Althea cherished her time in the beauty of Hood River, Mount Hood, Cloud Cap and Lost Lake. A private celebration for Remembering Althea will occur at a later date.
Contributions in Althea's memory may be made to:
Hood River Arts in Education, 1009 Eugene St., Hood River, OR, 97031; www.cgaie.org, or Hukari Animal Shelter, 3910 Heron Drive, Hood River, OR 97031; www.hoodriveradoptadog.org.