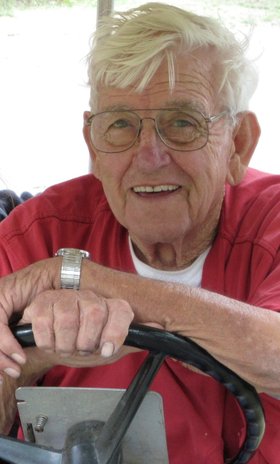 Anthony "Tony" Lee Medearis
November 13, 1932 - October 4, 2012
Anthony Lee Medearis passed away from a heart failure at Providence Hood River Memorial Hospital on Oct. 4, 2012. Tony was born in Woodburn, Ore., Nov. 13, 1932, to Roy Eugene Medearis and Violet Mae Medearis (Hobbs).
The only son and middle child for Roy and Violet, Tony grew up in the northern portion of Marion County amongst the hop and berry fields around Aurora, Hubbard and Donald, Ore., areas.
Learning the value of hard work and honest pay at an early age, it was nothing to Tony to help with milking the cows on the family farm before heading to school in the morning and then return home help out with more chores after school.
He was chosen as a FFA state representative while in high school and played football for North Marion High School.
Tony was drafted into the U.S. Army and served his country in Germany. Upon returning he rejoined his family and used a G.I. loan to help save the family farm. He eventually met Patricia Garrison (Ricketts) and would start building their own family.
With Pat's four children from her previous marriage, Tony and she would add three more. During their short time together they traveled and live around northern Oregon, from Estacada and Donald to Independence and Hood River.
Doing everything from driving logging trucks and picking seasonal fruit to operating heavy equipment and welding, he was a master to all that he put his hands to.
Tony moved to the Hood River Valley in 1969 and has called it home ever since. He worked for the Webster Family Orchards as their foreman, using his farming knowledge and experience to help the orchard to become one of the top fruit producers for Diamond Fruit.
His knowledge of equipment and land sculpting helped Webster Orchards establish the first major terraced section of an orchard in the Hood River Valley. Later in life Tony left the orchard and returned to truck driving and drove for Valley Ag in Parkdale and hauled scrap metal from the valley to Portland for recycling.
His devotion to his community was shown by his commitment of over 45 years of volunteer service to the fire departments of Donald, Ore., and Pine Grove, Ore.
In his later years he was a permanent fixture at the Hood River County Toll Bridge Park Campground. His bright personality allowed him to be a congenial camp host and was well-liked by the visitors and guests of the campground.
Tony leaves behind his daughter, Debra Loraine Collins (Steve), his son Carl Rodney Medearis (Marilee), his stepson Larry Dean Garrison, and his sister, Twila Erb (Eldon); and many grand- and great-grandchildren.
He was preceded in death by his parents, Roy and Violet; his sister Betty Clow and her husband, Gene; his first wife, Pat; his son Anthony Leroy Medearis; stepdaughter Lee Ann Stewart; and stepsons David Garrison and Howard Garrison.
His knowledge and friendship will be missed by all who have known him and been touched by his life.
A celebration of life will be held at Anderson's Tribute Center at 11 a.m. on Oct. 13, with a reception to be held after the service; interment will be held at Pine Grove Butte Cemetery shortly thereafter. The family requests that remembrances be made to the Pine Grove Fire District, American Cancer Society or the American Heart Association in his name.
Arrangements are under the direction of Anderson's Tribute Center (Funerals, Receptions, Cremations), 1401 Belmont Ave., Hood River, OR 97031; 541-386-1000. Please visit www.andersonstributecenter.com to leave a note of condolence for family.