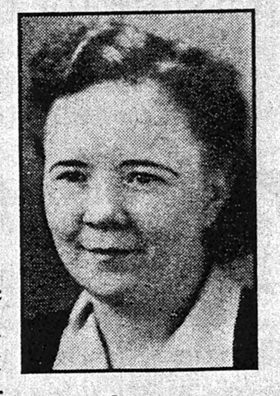 Anna "Ann" R. Marchbank
October 14, 1923 - September 26, 2012
Anna R. "Ann" Marchbank, 88, of Astoria, Ore., died Wednesday, Sept. 26, 2012, in Astoria. She was born Oct. 14, 1923, in Valier, Mont., to George and Elma De Etta (Kennett) Jorgensen.
She served in the U.S. Army Air Force from 1944 to 1946 as an automotive equipment operator. She received the American Campaign Medal, Good Conduct Medal and the World War II Victory Medal.
On April 20, 1963, she married Charles Marchbank in Skamania County, Wash. He preceded her in death.
Ann was a bartender at the American Legion for 20 years, and a waitress. She retired in 1992. She enjoyed traveling and visiting family.
She was a member of the American Legion for 65 years.
She is survived by a sister, Bonnie Cain, of Astoria; four nieces, Pamela Cain and Cindy Gebhardt and her husband, Paul, all of Astoria, Linda Kitchens of Oklahoma City, Okla., and Patsy Garza and her husband, James, of Brownsville, Texas; four nephews, Randall Cain, of Astoria, Tom Cain, of Warrenton, Hank Weigel and his wife, Darlene, of Carlton, and Kenny Weigel, of Nehalem; and several great-nephews and great-nieces.
No service will be held.
Memorial contributions may be made to Clatsop Post 12 American Legion, 1132 Exchange St., Astoria, OR 97103, or the American Legion, 1305 Tucker Road, Hood River, OR 97031.