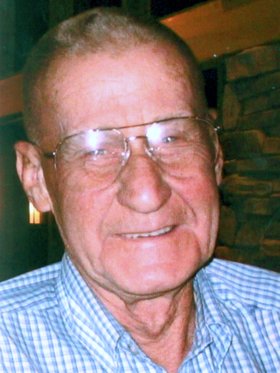 Kenneth "Dean" Dean Gibbons
November 20, 1932 - September 6, 2012
Kenneth Dean Gibbons passed away at his home in Mesa, Ariz., on Sept. 6, 2012. He succumbed to prostate cancer and was 79 years of age.
Dean was born Nov. 20, 1932, in Picher, Okla., the third child of Orval Gibbons and Cora Drennan Gibbons. He was the middle child with two older brothers and two younger sisters. In 1942 the family moved to Mosier and no matter where in the world he was, Mosier was always home.
Dean graduated from Mosier High School in 1950. While he was at MHS he played sports and was usually the comic relief in every play the school sponsored. His role in life both at school and at home was to be the entertainer and he did it very well.
Upon graduation, he joined the U.S. Navy. His basic training was in San Diego and then he spent three years in Japan.
In 1953 he was honorably discharged and came back to Mosier. He worked on the railroad relocation for the building of The Dalles Dam and at Hampton Furniture Store.
In 1955 he married Leota Dawkins Fransen, but they were divorced a short time later. In 1957 he married Wyona Jane Howland (Wody) and they moved around the Southwest and Northwest on various jobs with Dean's employer, Morrison Knudsen, in their accounting department. Their son, Shane, was born in 1968.
He worked for Morrison Knudsen for 11 years before going to Dravo Construction. During his time with Dravo the team was sent to Australia to work on the dam project on the Ord River.
When they came back to the States, the company wanted him to relocate to Pennsylvania, but he declined and he and his family settled into life in the "valley of the sun" in Tempe, Ariz., where they have lived for the past 40 years.
During that time, Dean worked for Sanner Contracting and became a real estate broker for Century 21.
After retirement, he worked for many years as a volunteer at the Tempe Police Department and was named their volunteer of the year in 1997. He took his experience to the Arizona Mills Mall and later the Chandler Fashion Center where he was a security guard.
The past few years, his legs were not up to the miles of walking required for the job and he rode a Segway around the mall. According to his co-workers he was very skilled at it. He loved his job and the people he worked with, and it went both ways: They prepared a memorial service for him at the mall that was very personal and uplifting.
Dean was preceded in death by his parents, brother Tommy Gibbons, sister Juanita Gibbons Smith, infant brother Jerry Wayne Gibbons, nephew Randall Lee Gibbons, niece Kimberly Faye Smith and sister-in-law, Beverly Gibbons Kendall; his mother-in-law, Laverna Howland, Wody's siblings, Scott, Amy, Lawrence and Mary, his grandparents, aunts, uncles and several cousins.
He is survived by brother Lee and his wife, Christine, of Jakarta, Indonesia; his sister Glenna Fay Gibbons McCargar and her husband, Ed, of Mosier; his former wife, Wody, and son Shane, of Tempe, Ariz.. and her brother, Fred, in Stockton, Calif.
He is survived also by his cousin, Jim Drennan, sister-in-law Roe Gibbons and brother-in-law, Don Smith. Nieces and nephews surviving are: Ronda Gibbons Carroll, of Portland, Kyra Gibbons Sczygelski, of Sandy, Ore., Robin Smith Allen, of Parkdale, Jody Smith Lamereaux, of Pine Grove, Heather Smith Muma, of Odell, Tom Gibbons, of Hood River, Patrick Gibbons, of Shreveport, La., TJ Gibbons, of Tigard, Michael Gibbons, of Hillsboro, Jeff Smith, of Irving, Texas, Matt Smith, of South Beach, Ore., Jason Smith, of Foster, Ore., Kelly McCargar, of Mosier, and Morgan McCargar, of Warrenton, Ore.
Dean kept up a lively correspondence through email on the computer with many friends and relatives. Family was so important to him and he made it a point to come to Mosier every summer to reconnect with everyone.
He and brother Lee enjoyed golfing together, a hobby he continued until his health deteriorated. He also found a bowling team wherever he and Wody lived and he was a champion bowler with many trophies.
He loved to cook and swapped recipes on a regular basis. While in Mosier, he requested homemade coleslaw and a chicken-fried steak dinner. He contributed by making Mexican pizza and chicken parmesan. He loved more-than-spicy food and with a friend made up a salsa, aptly named Ring of Fire!
During his visits to Mosier, there was always a trip to the coast and this summer, even though he was ailing, he still wanted to go. He was in awe of the ocean. He also loved sitting out in the yard of an evening watching the day fade away.
He was generous with his family and friends and liked to surprise them with little gifts. He was funny, loving, respectful and kind. He was good company and we are missing him.
As a friend wrote to us, "Bury the sadness, not the memories." Rest in Peace, Dean.
Graveside services will be held on Saturday, Oct. 20, at 11:30 a.m. at the Mosier Cemetery on State Road. Following the service, there will be time for visiting at a luncheon at the Mosier Grange Hall.
If you would like to contribute in some way, flowers or plants are welcome as well as donations to Mosier Community School or the Mosier Valley Library.