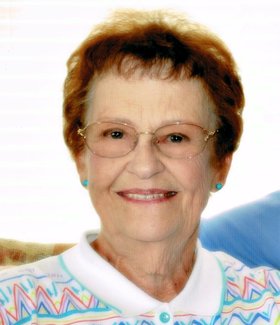 Betty Jane Kadlec
August 1, 1928 - October 9, 2012
Betty Jane Kadlec, 84, was born in Hood River, Ore., on Aug. 1, 1928, and passed away suddenly in her sleep at home in The Dalles on Oct. 9, 2012.
She was a life-long resident of Hood River and attended Hood River schools. She was the youngest of six children born to Earl and Bessie Level.
On June 14, 1946, she married Hod Slack and they had three children together. On May 9, 1976, she married Sterling Kadlec. They moved to The Dalles in 2002. Sterling passed away on Feb. 7, 2012, and she worked with hospice to keep him at home, tending to him faithfully.
Betty loved her family, her immaculate home, her flowers and gardening. Just recently she adopted her little Shih Tzu companion, Teddy.
Betty was preceded in death by both her parents, sisters Mildred and Frances, brothers Bob, Ray and Earnest, her husband Sterling, and two grandsons, Michael Hull and Jason Hinkley.
She is survived by her children and their spouses, Susan (Lynn) Spellman, Janet (David) Hinkley, and Tom (Lori) Slack; five grandsons, Monte Hull, Dustin, Ryan and Jared (Lisa) Hinkley, Brandon Slack, and granddaughter, Coral Slack; and stepchildren and their sons, Lisa (Wes) Zook, Heidi (Travis) Pyatt and Greg (Joy) Kadlec.
At Betty's wishes, there will be no formal services. A private celebration will be held later.
Spencer, Libby & Powell Funeral Home, 1100 Kelly Ave., The Dalles; 541-296-3234, is in charge of arrangements.
Memorial contributions may be made to Home at Last Animal Friends.