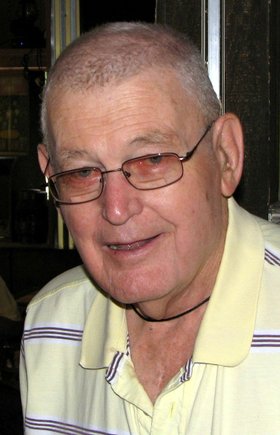 Kenneth Joseph Beam
August 19, 1924 - August 23, 2012
Kenneth Joseph Beam was born on Aug. 19, 1924, to Joseph William Beam and Mildred Iona (Harper) Beam at Willow Creek, Mont., in Gallatin County. He moved with his family to the Hood River Valley, Ore., in 1933.
At 15 he joined the CCC (he declared that he was 17 in the application). He joined the Coast Guard in July of 1942, and served in Ketchikan, Alaska, then on a lighthouse on the island of Scotch Cap in the Aleutians.
After a year on Scotch Cap, he got a 96-day leave, during which he went to visit an aunt in Bozeman, Mont., where he met a nursing student, Julia Ruth Huntley. They fell in love and were married on Aug. 30, 1944.
Ken played football for the Coast Guard for one season before he was transferred to lighthouse duty in the San Francisco Bay, and was honorably discharged from the Coast Guard in October 1945.
In early 1946, he and Julia moved to Long Beach, Calif., where Ken earned his GED and learned the meat-cutting business from his uncle. They moved back to Hood River to work for Merle Easton, who owned Merle's Markets, and while there, Joseph William Beam II was born on Dec. 31, 1947. Daughter Jacqueline Ruth was born on April 24, 1950.
Later, while working for Safeway, he got transferred to Enterprise, Ore., where Edward Scott was born on Aug. 8, 1955.
The family moved back to Hood River, where Ken worked for Merle Easton until Merle sold his stores, then he worked in Portland for a short time, then they moved to Lebanon, Ore., where he went into business for himself in a meat market.
After about eight years in his own business, he sold out and the family moved to Medford, where he worked in a variety of markets in the Rogue Valley. Ken bought a grocery store in Ashland in 1977, ran it until 1982, sold the grocery store and bought a tavern and operated that for a few years before moving back to Hood River, where he and Julie operated an adult foster home for about five years. After selling the foster home, they moved back to Medford in 1992.
In 1994, they moved to Indianapolis, Ind., to live with his son and his wife and to assist in his business. While in Indiana, they were able to watch grandson Mike's last two years of high school basketball. They moved back to Medford in 1996 to live with his daughter, Jackie, and her husband.
Ken became the chief cook, bottle washer and grocery shopper at Jackie and Mark's house until health halted it — only months before his death.
He was preceded in death by wife, Julia, and son Edward, sister Virginia Adamson Lee, and brothers Charles William Beam and Chester Ronald Beam.
He is survived by son Joseph; daughter, Jacqueline Gramcko; three grandchildren and three great-grandchildren; and brothers Benjamin Howard Beam, Clifford Eugene Beam and James Lawrence Beam.
Kenneth died at home at age 88 on Aug. 23, 2012. His gentle humor, ready smile, great memory and willingness to work hard will be missed by everyone who knew him.