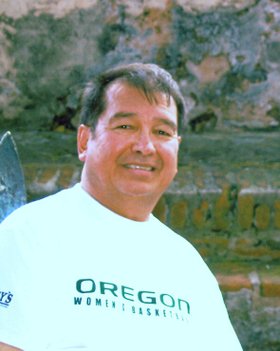 Eugene "Geno" A. Torres
November 6, 1942 - September 10, 2012
A celebration of life was held on Sunday, Sept. 16, in Springfield, Ore., for Eugene A. "Geno" Torres, who died Sept. 10, 2012, of a heart attack. He was 69.
Geno was born Nov. 6, 1942, in Red Cliff, Colo., to Daniel and Josephine Herrera Torres. The family moved to Hood River in 1943. Geno attended Pine Grove Elementary and Mid Valley Junior High, graduating from Wy'east High School in 1960.
He served four years in the U.S. Marine Corps. He worked as a project and program manager in the phone industry and had extensive training in telecommunications. He most recently drove a school bus for Pleasant Hill.
Geno married Diana Nolte on Feb. 25, 1978, in Eugene, Ore. He was known by many as "the Giver" because of his generous, always-there-to-help nature. Gene and Diane were active in their church where he volunteered on many projects such as organizing the church camp, aiding the homeless and organizing Bible studies. He was an avid Oregon Ducks fan and enjoyed tailgating parties with family and friends.
Survivors include his wife; four sons: Kevin and Ryan, both of Eugene, Jeff, of Albany, and Todd, of Portland; two brothers: Danny, of Woodland, Calif., and John, of Keizer, Ore.; three sisters: Maria House, of Prineville, Ore., Virginia Lee, of The Dalles, Ore., and Priscilla Slegers, of Hood River; and six grandchildren.
He was preceded in death by his parents, brother Ricky and sister Pat.
Geno was dearly loved and will be missed by many.