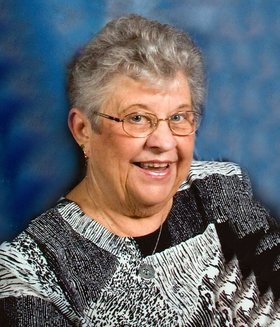 Arlene Jean Allegre
February 1, 1932 - September 19, 2012
Arlene Jean (Buckley) Allegre, a lifelong Odell resident, passed away peacefully in her home Wednesday, Sept. 19, 2012, after battling pancreatic cancer for more than two years.
Born on Feb. 1, 1932, in Hood River, Ore., the second child of Helene G. and Eugene E. Buckley, Arlene grew up on the family farm in Odell. She attended school in Odell and graduated from Odell High School in 1950.
If there was one constant in her life, it was music and singing for and with others. As a young teen, Arlene performed in school plays along with community and school singing groups. She loved singing with friends or doing solos. Many of her best friends were found in the groups she sang with, such as the Odell Sextet and O-Highs.
She was crowned queen Arlene I of the 25th Annual Mt. Hood Legion Climb in 1949, a traditional community event sponsored by American Legion Post 22.
Arlene had wanted to become a music teacher, but with no college funding, she worked at the Odell Post Office Store and later lived in Coos Bay with her aunt and uncle. She had dated Don Allegre since he'd escorted her to her senior prom. Their courtship would eventually lead to their marriage on Aug. 2, 1953. They would have three children: Mike, Darlene and Pat.
A housewife for most of their marriage, Arlene helped to manage a home, raise her children, volunteer at church and in the community, and support Don's work on their farm and in business. They were divorced in 1967 and Arlene never remarried.
She was a sought-after vocalist for weddings, funerals and special events. In 1960, she performed for several weeks and became a finalist on KPTV-TV's old talent show, Gateway Jamboree. Arlene also sang and performed in the annual Lions Follies and with the Sweet Adelines.
She had an 11-year career working in the Hood River County Tax Office. After living two years in Wyoming, Arlene returned to Hood River in 1979 and worked at Miller's department store and at Grizzly Bear Pizza. She settled on about 5 acres that was part of her parent's farm on Wy'east Road, raised alfalfa and maintained her home. She was later hired as a kitchen worker at Westside Elementary School – a job she enjoyed for 14 years before retiring.
Always a patriotic lady, Arlene served as a member of American Legion Post 22 Auxiliary and sang patriotic songs at events. Also, she helped with many Hood River Valley Adult Center garage sales.
Cooking was Arlene's love language. She is well known by her family and friends for delicious meals and specialty desserts. Employees at several places in the valley were many times the recipients of her homemade cinnamon rolls or other goodies, whether it was the holidays, to say thank you, or for no occasion. Her grandchildren, Matt and Chris Allegre and Shawn and Shelby Magnuson, were regularly spoiled with her homemade pizza-style fruit pie.
Arlene is survived by her children: Mike (Suzanne), of Keizer, Ore., Darlene (Wayne) McConnell, of Vale, Ore., and Pat, of Hood River, and special son, Keith Brown, of Hermiston; grandchildren: Matt and Chris (Ashley) Allegre, Tech. Sgt. Casey (Becky) Hearn, Shawn and Shelby Magnuson and Lt. Commander Alex McConnell; two great-grandchildren: Aaron and Lilliedale Allegre.
She is also survived by her siblings: Janiece Gillmouthe and Bob (Mary Jane) Buckley; and 14 nieces and nephews.
She is preceded in death by her parents, Helene G. and Eugene E. Buckley, and brother Claude E. Buckley.
Her children thank Arlene's Special Angels during her battle with cancer: Hospice of the Gorge, Tami Arthur, Suzanne Burd, Trisha Gehrig, Jen Kroner, Jana Shuler and "older daughter" Kim Pierce.
A celebration of Arlene's life and a catered reception will be held Thursday, Sept. 27, at 4 p.m. at Anderson's Tribute Center (Funerals, Receptions, Cremations), 1401 Belmont Ave., Hood River, OR 97031; 541-386-1000. A private family graveside service will be held at a later date at Pine Grove Cemetery.
The family requests that in lieu of flowers to please make a donation to either Odell First Baptist Church or to Providence Hospice of the Gorge. Please visit www.andersonstributecenter.com to leave a note of condolence for family.