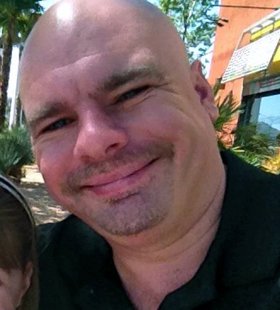 John Thomas Eliason
June 23, 1975 - September 8, 2012
John Thomas Eliason, 37, of Nevada, collapsed at home Friday morning and died Saturday Sept. 8, 2012, at St. Rose Dominican Hospital. The cause of death: Sub arachnoid hemorrhage, and non-traumatic ruptured aneurysm.
He was born to John and Melissa Eliason June 23, 1975, in Baker, Ore. John graduated from Columbia High School in 1993 and received an instrumentation technology degree from the Perry Technical Institute of Yakima, Wash. John was a Tech II at Nevada Energy for eight years, but worked in energy plants for the past 11 years.
He married Dixie Lopez Aug. 14, 2003, and they lived together in Henderson, Nev.
He was raised as one of Jehovah's Witnesses. When he was younger, he thoroughly enjoyed sharing in the Bible ministry. Although life kept him very busy, he continued living with the morals he grew up with.
"John was a very loyal, honest and loving husband, father, brother, and son to his family. The last few years of his life he devoted to raising his daughter Nina and ensuring that she developed those same honest values that he treasured. She was his first priority, his life, his angel, and his princess. He even shared his love of cooking with his daughter Nina. They spent many hours during his final days chopping tomatoes, onions, and peppers to make the best salsa on earth." — Chris
"John was a great friend to many and he will truly be missed. He was dependable and timely to say the least. John had a helper mentality and he wanted everyone to be 'okay.' He could research anything and then teach you all about it.
"His close friends had many words to describe what a great person he was, one friend described John as Devoted, because no matter what life threw at him he remained loyal to his commission to be a responsible dad.
"Another called him a Genius. There was nothing that he could not fix, build or design to solve any problem. He had a solution for everything or he would work non-stop till he found it.
"His best friend chose the word 'Laughter,' because 'no matter how foul a mood I was in John could always make me not only smile but laugh. Through grade school into middle school and even through high school and beyond I looked to John for laughter. He never made me feel as if he were laughing at me unless I was laughing at myself and John showed me how to laugh at myself.
'He also showed me a more serious and caring side when I lost my father, but again I looked to John during my time of need and he was there to help me laugh and forget the pain. I loved John as if he were my brother as well, and I can only imagine how it must feel to lose such a great, friend, brother, father and man." — Tyler
Other important people in his life felt that:
"He was "Resilient! Always able to come back with a positive outlook no matter how bad the situation." — Becky
"He was 'Happiness.' His personal goal was to make everyone laugh and smile." — Athena
"He was 'Giving!' He never hesitated to help anyone out with anything, large or small, to the absolute best of his abilities and his entire lifestyle to take care of his young daughter Nina without blinking an eye. He gave out his skills, handyman tips, and best of all- his humorous take on life." — Corrine Price
"He was 'Strong.' No matter what life threw his way, he had the Strength to get through it, remain positive, and still try to make people happy as well as make sure his little Nina was well taken care of." — Pam
John is survived by his parents, John and Melissa Eliason; daughter Nina Eliason; wife Dixie Eliason; brother Timothy Eliason and his wife, Lixia; brother David Eliason; sister Sue Eliason and sister Pam Leonard and her husband, Jeff; and many aunts, uncles, cousins, nieces, nephews and friends.
He will be greatly missed by all who knew and loved him.
A memorial will be held on Sept. 29 at Gardner Funeral Home in White Salmon, Wash. at 2 p.m.