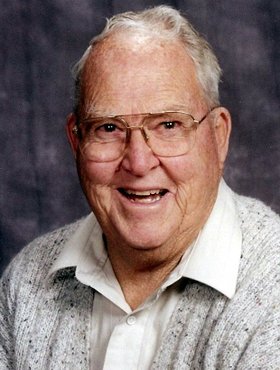 Robert "Bob" Gosslee
July 29, 1923 - September 19, 2012
Robert "Bob" Gosslee, 89, died at Adventist Medical Center in Portland, Ore., Wednesday, Sept. 19, 2012, surrounded by his children.
Bob was born July 29, 1923, in Seattle, Wash. He was a World War II veteran, flying P-38s on bombing missions toward the end of the war.
Upon return to the States, he settled in Southern California, where he met Dorothy Moore. They married in December 1959. Three children followed, and in 1969 the family moved to Hood River, then to Mosier in 1971.
A city boy from Seattle, Bob quickly adapted to life working a cherry and peach orchard. The whole family could often be found working together picking cherries, setting irrigation pipe or picking up brush. Bob also worked part-time at J & R Furniture in Hood River.
In 2000, following the death of his beloved Dorothy, he moved to Umatilla to live with his daughter, Lora. Four years later, upon her move to Utah, Bob went to Creswell, Ore., to live with his son, Greg. There he got to spend time with his two grandchildren, McCoy and Claire.
In 2010, at age 86, Bob moved to Somerset Assisted Living Center in Gladstone, Ore., where he enjoyed playing bingo and having root beer floats, until a back injury and subsequent health problems prompted his move to an adult foster care home in Northeast Portland.
On Sept. 18, 2012, he suffered a massive stroke, leading to his death one day later. He died peacefully, ushered into heaven and the waiting arms of his beloved Lord and Savior.
Bob was a generous, big-hearted, loving man with a quick wit and wonderful sense of humor, and was never afraid to let you know you were doing something wrong (but only because he wanted to make sure you did it right). He lived life to the fullest, and would be the first to tell you that he owed it all to Jesus.
He loved his Lord with all his heart, and in recent months often spoke of his desire to be "absent from the body, present with the Lord" (2 Corinthians 5:8).
Bob is survived by his eldest son, Greg (wife Stefanie), grandchildren McCoy and Claire, daughter, Lora (husband Kevin) and youngest son, Doug (wife Theresa).
At the family's request, no service will be held. Bob's ashes will be buried next summer next to Dorothy's, in the Blue Mountains of Eastern Oregon.
To leave a note of condolence for the family, visit www.gatewaylittlechapel.com.