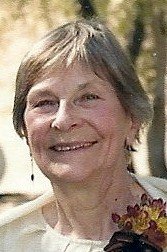 Sydney Burkhart
November 19, 1925 - September 13, 2012
Sydney Burkhart was born Sydney Roy Goodrich in Brooklyn, N.Y., on Nov. 19, 1925, to Howard Brant Goodrich and Mary Sydney Roy Goodrich. She passed away quietly on Sept. 13, 2012, in Portland, Ore.
Sydney's family moved to Hannibal, Mo. In the footsteps of Mark Twain, she grew up loving the outdoors, climbing trees and swimming in the Mississippi. She was so proud of climbing the town's water tower. She spent her summers at Camp Miniwanca in Minnesota where she enjoyed canoeing, swimming, and camp leadership activities.
After Hannibal High School, Sydney went on to study mathematics at Carleton College and graduated from Washington University in St Louis in 1946 with a degree in geography. Piloting a Piper Cub, Sydney enjoyed aerial views of the topography and geology she so loved perusing in maps.
In 1952, with map in hand, Sydney headed west to California. By 1961, she was on her own with four young daughters to raise. She began her 25-year career at Stanford University as a receptionist, quickly advancing to a lead administrator in the psychology department, and finishing her career as an assistant dean in the School of Humanities and Sciences.
Sydney instilled her love of nature in her daughters. The family enjoyed frequent camping trips to the beach, the redwoods and the Sierras, with occasional trips further afield.
Sydney retired to Hood River in 1987. She loved this small town in the Columbia River Gorge where she could "walk and breathe the crisp fresh air and gaze in wonder at this beautiful place." In addition to being an active grandmother, she kept busy with her interests in the arts and literacy and enjoyed the culinary fare of the great local restaurants.
Sydney served for many years as treasurer of the Friends of the Library and on the Hood River County Reads Committee. She was so very proud of the success of the library's expansion project in 2003, devastated by the library's closure in 2010, and thrilled with its reopening in 2011.
She remained intellectually stimulated and well fed by active participation in two book groups, the Lunch Bunch, the Philosophical Voodoo Society and her morning visits to Starbucks.
Sydney joins her beloved sister Jane Goodrich Hurst and is survived by her brother Howard Goodrich (Darlene) and sisters Averill Young and Ruth Partlow (Robert); daughters Carolyn Burkhart Halbert (Allan), Leslie Burkhart, Jenny Burkhart and Frances Burkhart; grandchildren Brian, Evan, and Aaron Halbert, Samuel and Mackenzie Whitman, Donnae Grover and Vanessa Warshawer, and Thaddeus and Joshua Aid; great-grandchildren Emily, Victoria and Charlotte Boxall, Samantha and Azrael Aid, and Sydney Calla Grover; and many nephews, nieces, friends and acquaintances.
A memorial service will be held Saturday, Oct. 13, at 2 p.m. at the Riverside Church in Hood River. A reception will follow.
In lieu of flowers, please consider making a donation in Sydney's name to either the Friends of the Library, P.O. Box 1764, Hood River, OR 97031, or the Columbia Center for the Arts, P.O. Box 1543, Hood River, OR 97031, www.ColumbiaArts.org
Visit www.andersonstributecenter.com to share a memory or leave a note of condolence for the family.