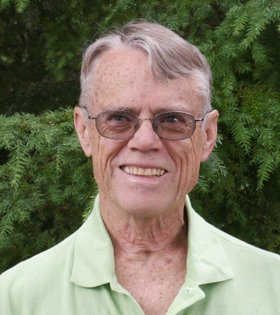 Paul Lynn Mortenson
September 21, 1945 - March 31, 2013
After a courageous four-year battle with cancer, Paul Mortenson left this earth on March 31, 2013, to touch the face of God.
Paul Lynn Mortenson was born Sept. 21, 1945, in The Dalles, Ore., to Jim and Agnes Mortenson, and spent his first nine years in Mosier. The family relocated to Hood River in the early 1950s, where Paul attended school, graduating from Wy'east High school in 1963.
The following December Paul enlisted in the U.S. Army, earning the good conduct award. He served in Vietnam for one year, and completed his tour of duty in Germany.
Upon returning home he attended Mt. Hood Community College and graduated from the University of Oregon. He then returned to Germany for two years to teach English to German children. Paul remained in touch with his German friends as the years went by.
Paul returned to Oregon in 1974 and became employed by Starker Forests. He performed a number of jobs at Starker's, but was primarily responsible for road maintenance. Paul thoroughly enjoyed working for the Starker family, and retired in 2012 after 38 years.
Paul found the love of his life in 1975 when his brother Eric introduced him to Genie Sanderson. They married in 1976, built their first home in Mary's River Estates, and raised two children, John and Laura. In 1998 they bought their current home in King's Valley.
Paul's first love has always been his family and they enjoyed many activities together, such as camping, hiking, water skiing and following the Oregon Ducks sporting events. Extended vacations included trips to Germany and Hawaii. He loved to fish and hunt, and knew where all the best spots were. He never missed a sporting event that his children were in.
Paul was also very community-oriented, and loved his adopted hometown of Philomath. He was active in various civic groups including the Philomath Youth Activities Club, Society of American Foresters, American Legion Post 100, Veterans of Foreign Wars and the Oregon Hunters Association. He found time to rebuild his grandpa's 1941 Dodge pickup, and enjoyed taking it to area car shows.
Paul is survived by his wife, Genie; son John (Heather) of Lewiston, Idaho; daughter Laura (Nathan) Weishaar, of La Grande, Ore.; grandchildren Keith, Seth, Taylor and Brynn; sisters Sheila (Brett) Tegen and Mary Ann (Kevin) Hay, and brothers Neil (Jill), Eric (Michelle), Denis and Robert (Ramona); and many nieces, nephews, cousins and wonderful friends.
He was preceded in death by his parents, Jim and Agnes, and Genie's parents, Virgil and Theresa Sanderson.
Paul will be deeply missed by his family and friends.
A memorial service will take place at 4 p.m. on April 4 at the College United Methodist Church in Philomath. A graveside burial service will be on April 6 at the Summerville Cemetery in Summerville, Ore., at 11 a.m.
Contributions may be made to the Philomath Youth Activities Club, American Legion Post 100 or Benton Hospice. Please leave your thoughts and memories for the family at www.mchenryfuneralhome.com.

Condolences are being received online.