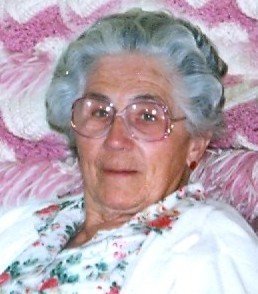 Henrietta Willey
April 13, 1918 - April 14, 2013
Henrietta Willey passed away on April 14, 2013, at her Hood River, Ore., home surrounded by family.
Henrietta was born April 13, 1918, to Ewalt and Frances Kolterman in Wamego, Kansas. She was the oldest of three daughters.
Henrietta worked on the farm from a young age, milking cows, plowing with a pair of black horses, helping harvest grain and cooking with her mother for harvest crews. When she was 15, her future husband, Fred, came to work for her father as a hired hand.
After high school, Henrietta taught school for two years in a rural one-room school with another teacher. She and Fred were married on New Year's Eve of 1938 and moved to Oregon the next spring. They first lived in Mount Hood, then on to the Tamura farm in Neal Creek, and eventually purchased five acres south of Parkdale, next to one of Fred's brothers and within one-half mile of another brother. They became life-long friends with their neighbors, the Hamada family.
During World War II, Henrietta worked in the orchard, overseeing crews during fruit harvest. She eventually began packing fruit.
Henrietta and Fred moved to Odell in 1955, where they built and operated a custom butcher shop for 10 years. Henrietta then returned to packing fruit until she retired.
Henrietta and Fred loved to travel in their pickup and camper and spent many winters in Quartzsite, Ariz., with friends from Hood River and other parts of the United States. During those retirement years, they traveled twice to the East Coast, seeing the country and making new friends.
Fred passed away in 1996 and Henrietta continued to live in their home in Odell until 2005, when she moved to Providence Down Manor. She loved to travel, gardening and her flowers, playing cards with her friends at the Manor, and was always a help to others. Her greatest travel adventure was a three-week trip to China with her son Bill when she was 82 years of age.
Friends and neighbors will remember her beautiful yard and flowers, and her gifts of Christmas candy.
Henrietta and Fred had two sons: James was born in 1940 and William in 1943. James passed away in June 2012.
Henrietta is survived by her son William, his wife Karen, their three daughters, Tina Marsh, Melissa Willey and Amanda Stonewall, and two grandsons; Jim's widow Marilyn, their children Jerry Decker, Gene Decker and Karla Fransen, three grandchildren and one great-grandchild.
Visitation will take place Friday, April 19, from 5-6 p.m. at Anderson's Tribute Center. Funeral services will take place on Saturday, April 20, at 1:30 p.m. at Anderson's Tribute Center with a reception to follow.
Henrietta will be laid to rest at the Upper Valley Cemetery in Parkdale in a private family interment. The family suggests donations be made to the Odell Fire Department in remembrance of Henrietta.
Arrangements are under the direction of Anderson's Tribute Center (Funerals, Receptions, Cremations), 1401 Belmont Ave., Hood River, OR 97031; 541-386-1000. Please visit www.andersonstributecenter.com to leave a note of condolence for family.

Condolences are being received online.