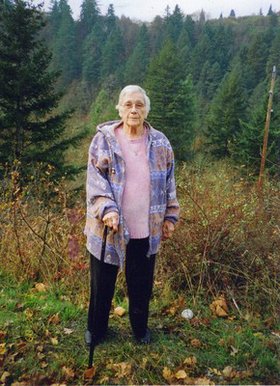 Charlotte "Neoma" Neoma Cates
March 20, 1923 - July 28, 2013
Charlotte "Neoma" Holloway Cates, 90, slipped peacefully away to her heavenly home on Sunday morning, July 28, 2013, with her family present in the comforts of her own home.
She was born on March 20, 1923, in Claremore, Okla., to Intha E. Ritchson and Charles D. Holloway. She was the second-oldest of their six children. Her older brother "Dee" passed away in the service of the Navy, leaving her as the oldest sibling for Pauline, Howard, Virginia and Maxine, all of whom currently live in Oklahoma.
She had many good memories of Oklahoma and as she got older she would sing, "Oklahoma here I come, back to where I started from." She made many visits to Oklahoma first by car and later by plane every couple of years. She was very proud of her Indian heritage as a member of the Cherokee Indian Nation.
After graduating from high school, she was ready to begin on her life's journey. Neoma married her childhood friend and close neighbor Bert Cates on Nov. 22, 1940, in Claremore. They immediately set out on an adventure, moving first to the Flagstaff, Ariz., area, then to Hood River, Ore., then moving back to Oklahoma and finally settling back in Hood River for good in the spring of 1952.
During her married life, Neoma's careers were varied. She did fruit processing at the cannery, nursing at the care home and finally she retired in 1982 from Jantzen sewing factory on the Port of Hood River.
Life after retirement didn't slow Neoma down. She instead picked up the pace at home and in her community. She loved her gardens and grew as many as three large plots with the help of her well-trained "groundskeeper," Bert. She added thorn-less blackberries to her garden and made the most wonderful blackberry cobblers which were always "cooled and ready to eat" whenever you came to visit. Most of the time you would find her in the middle of a sewing project for herself or perhaps repairing one of her family's clothing.
Neoma had a strong faith in God and was active in the Church of Jesus Christ of Latter-day Saints of Hood River since the early 1960's. Neoma made many friends over her lifetime. She was well known to "adopt" the widows in her church, driving them around in her car or just visiting with them.
She lived in her home on the Hood River for 61 years. She and Bert quickly bought it after he "discovered it" making his way down to the river on a fishing trip. They both thought the little three-room house would be a great place to raise their children and become established. The home didn't stay little for long. Neoma quickly drew up the plans and saved the money for Bert to construct a comfortable family home.
She loved her husband, children, grandchildren and great-grandchildren. She also loved to sew, garden, cook and help her family and friends any way she could. She especially loved to cook for the family and her hot rolls were legendary at family dinner or any potluck she was invited to.
She also enjoyed hunting and fishing with anyone who would go with her; whether it was her husband, her children or her grandkids.
Neoma and Bert had six children: Betty Faye Cates, Charles Thomas "Tom" and Janet Cates, of Vancouver, Wash., Benny Joe Cates, Jimmy Cates and Gini of Moses Lake, Wash., Jeanne and Hedley Lee, of Hood River, and Alice and Barry Cantrell, of Hood River.
Neoma and Bert had six children, 11 grandchildren, 17 great-grandchildren and two great-great-grandsons: her other living family members are: Troy and Dawn Cates, Travis Cates, Taunie Cates Reichardt, of Vancouver, Wash.; Michelle Baker, of Prineville, Ore.; Terri Cates Esford, of Everett, Wash.; Britt and Brenda Lee and Corey Lee, of Hood River, and Tisha and Bob Backman of Troutdale, Ore.; Aaron Cantrell of The Dalles, Ore., and Andy and Ocean Cantrell of Hood River.
Her great-grandkids are Ashley and Alex Cates, Nichole, Kori and Hunter Cates, Sean Reichardt, all of Vancouver, Wash.; Danielle and B.J. Baker, of Prineville, and Britney and T.J. Esford of Everett, Wash.; Ryan, Brooke and Jordan Lee of Hood River; Zack and Benny Backman of Troutdale, Ore.; and Aiden and Cole Cantrell, of Hood River.
Neoma was preceded in death by her oldest brother "Dee"; her first daughter, Betty Faye, at age 15 months; both of her parents, Charles and Intha Holloway; her second son, Benny Joe, at age 22 years; her grandson Jeffery Cates at age 14 years; and finally Bert, her husband of over 62 years.
Friends are invited to a viewing on Thursday and Friday from 9 a.m. to 4 p.m., with a time to greet and visit with family on Friday from 4-6 p.m. at Anderson's Tribute Center. Services are planned for 10 a.m. Saturday, Aug. 3, at the Church of Jesus Christ of Latter-day Saints, 1825 May St., Hood River, with a reception to immediately follow. Private graveside services and interment will be at the Pine Grove Butte Cemetery.
Remembrances may be made to Providence Hospice of the Gorge.
Arrangements are under the direction of Anderson's Tribute Center (Funerals, Receptions, Cremations), 1401 Belmont Ave., Hood River, OR 97031; 541-386-1000. Please visit www.andersonstributecenter.com to leave a note of condolence for family.

Condolences are being received online.