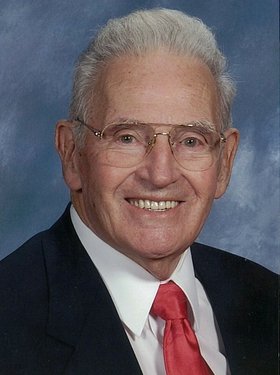 Fredrick "Fred" Ross Evans
March 28, 1922 - July 20, 2013
The Rev. Dr. Fredrick "Fred" Ross Evans died at Evergreen Hospice House in Albany, Ore., Saturday, July 20, 2013. Fred was born to "B. Ross" Benjamin Ross and Ruth Evans March 28, 1922, at home in Portland, Ore. He was the middle child of five.
The family moved to Tillamook, Ore., when he was 3 years old where he learned to have a lifelong appreciation for Tillamook County and especially Netarts, Ore., and the beaches.
The family moved to Hood River and Fred graduated from Hood River High School in 1941. In school Fred played the clarinet, sang in the choir and was on the football and basketball teams. He held numerous jobs as a youth including working at his father's meat market, doing orchard work and then learning to operate heavy equipment for the ongoing Bonneville Dam project.
Fred had always intended to become a minister like his father and in 1941 he went to Northwest Christian College where he became reacquainted with and married Joyce Errend. In 1943 Fred entered the military Naval Construction Battalion, the "Fighting Sea-Bees," and his first child, Steven, was born. Fred was given a short leave of absence from the military to see and hold his first son before shipping out to Hawaii.
For a short time both Fred and his younger brother "Pat," who had also enlisted as a Marine, were stationed in Hawaii. Fred was assigned heavy equipment projects but Pat was shipped out and was killed in the invasion of Guam.
Following the death of his brother, Fred volunteered for the next invasion which turned out to be the Battle for Iwo Jima. He was assigned as the beach master, responsible for landing heavy equipment on Green Beach at the base of Mount Surabachi on D-Day. It was the bloodiest battle in Marine Corps history.
He survived the horrors of the early days of conflict and witnessed the now-iconic planting of the U.S. flag on top of the mountain. Fred received a commendation for his service.
Following the close of the war and his honorable discharge, Fred returned to Hood River. His marriage had not survived the war and he became reacquainted with Mildred Yantis, who had attended the same high school as Fred and who had also been discharged from the Navy in 1945. Fred and Mildred were married on Oct. 6, 1946, and lived in Hood River as orchardists until after the birth of their children, John and Patricia.
Responding to Fred's long-felt call to enter the Christian ministry, the young family moved to Eugene in 1950 where Fred and Mildred attended Northwest Christian College and the University of Oregon. From that time forward and for more than 60 years Fred and Mildred were a team, active in ministering through the auspices of the Christian Church (Disciples of Christ).
After graduating from NCC and the University of Oregon, the family moved to Iowa where Fred attended graduate school at the Divinity School of Drake University. Following his graduation in 1957 he was ordained into the Christian ministry at Valley Christian Church in Hood River.
Fred's first ministry after ordination was at Westpark Christian Church in Bremerton, Wash., where their youngest daughter, Holly, was born in 1959. In the years that followed, the family moved to Medford, Ore., and Fullerton, Calif., where Fred served these churches as senior minister.
In 1989 he answered the call to serve as regional pastor for the Montana Region of Christian Church (Disciples of Christ). He and Mildred lived in Great Falls and were very proud of the work they did to help the region fulfill their 30-year dream of building a camp and conference center in the Lincoln area.
"Cane Ridge West" now boasts a beautiful log conference center that provides a vibrant ministry with the children, youth and families of the Montana Region. During this ministry, Northwest Christian University bestowed on him the honorary Doctor of Divinity degree in honor of his many contributions to the work of the church.
After his retirement from regional ministry, Fred and Mildred continued in active ministry, taking on a number of "interim ministries" including acting regional minister of the Pacific Southwest region.
Fred was proud to be the second generation of three generations of Christian Church ministers. His father, the Rev. B. Ross Evans, inspired Fred to hear and answer the call to ministry. Fred, in turn, inspired his son John and daughter Patricia to hear and answer the call. All three generations worked side by side in ministry at various times and places.
After long years of faithful, loving service to the church Fred retired from active ministry in 2003. For the past nine years Fred and Mildred have lived in Corvallis, Ore., and Albany. Fred and Mildred have traveled extensively, including trips throughout America and to the Holy Lands. For many years the couple enjoyed trailer camping, golfing and visiting family in their homes.
Fredrick R. Evans was preceded in death by his parents and three of his siblings, Benjamin Ross "Pat" Evans, Eileen Bostwick and Ruth Wickersham.
He is survived by his sister Dorothy Radliff; his wife of over 66 years, Mildred; four children: Steven John, Patricia, Holly and their mates; eight grandchildren and seven great-grandchildren. He leaves all his many friends and family a legacy of courage, loyalty, kindness and compassion.
There will be a memorial service at First Christian Church of Albany on Aug. 10 at 10 a.m. There will be a private ceremony of ashes at Netarts the following day.
Memorial contributions may be made to First Christian Church of Albany or Corvallis; or Samaritan Evergreen Hospice in care of Fisher Funeral Home, 306 Washington St. S.W., Albany, OR 97321.
Online condolences may be posted at fisherfuneralhome.com.

Condolences are being received online.