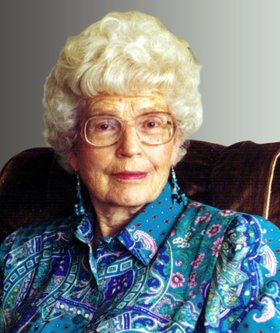 Virginia L. Tittle
November 28, 1917 - July 17, 2013
Native Oregonian and longtime State capital resident Virginia L. Tittle passed away peacefully of natural causes in hospice care in Salem on July 17, 2013, surrounded by friends and family.
Her life encompassed the sweep of history from the Communist Revolution in Russia, through the terms of 17 U.S. Presidents, to the start of a new millennium. Her passing was marked by the dignity, optimism, courage, humor and faith for which she was renowned during her 95 years.
Virginia was born the night before Thanksgiving on Nov. 28, 1917, in Prairie City, near Pendleton, Ore. Named after her paternal grandmother, she was the third child of Isham Ray Laurance and Lola Sturdivant Laurance and "little sister" of future Hood River Valley orchardist Sheldon (for whom Laurance Lake was named in the 1960s) and Seattle newspaperman Erwin.
When she was 8, her father, a successful general store owner in Stanfield, sold his property and paid cash for acreage in Parkdale. With no prior experience in horticulture, he established a thriving fruit ranch producing Delicious, Ortley and Newton apples and Anjou and Bartlett pears in the shadow of Mount Hood, Oregon's highest peak.
She helped with the harvest, took piano lessons, learned to swim in irrigation ditches, joined the Camp Fire Girls, enjoyed skiing, tobogganing, tennis, summer sports at Lost Lake, and community theater.
With her brothers, she successfully climbed to the 11,250-foot summit of Mount Hood. She gave the valedictorian address at her Parkdale High School graduation in 1935, but was unable to immediately attend college during the Depression for lack of funds.
For two years, she worked as an au pair and in a local packing plant prepping apples and pears for shipment. During the summer of 1938, Virginia worked at the rustic Oregon Caves National Monument near the California border.
After a year at Western Washington College of Education in Bellingham with the goal of becoming an elementary school teacher, she enrolled as a home economics major at Oregon State College in Corvallis, where she lived in the Edith Pernot House and met Howard E. Cushman of Condon, an Army ROTC cadet. They were married Sept. 3, 1942, in Parkdale.
Following a brief honeymoon at Lake Tahoe, they lived in a series of Army bases in California before moving to Fort Sill, Okla. She gave birth to her elder son, William, in The Dalles in September 1944, and moved back to the mid-Willamette Valley upon Howard's return from the European Theater.
Because of the extreme post-War housing shortage, their new home was a converted chicken coop on Peoria Road. Eventually, they were able to find a residence in Corvallis, where her second son, Laurance, was born in October 1948. She was a member of the Federated Churches of Corvallis at Eighth and Monroe streets.
In the 1960s, Virginia was able to practice her love of teaching and books as an assistant librarian at the Corvallis Public Library across from Central Park and at Western View Junior High School, newly built in the pastureland south of Philomath Road on 35th Street.
On Dec. 8, 1968, Virginia married Clive K. Tittle of Albany and soon after they purchased a home in West Salem on Cascade Drive with a view of the Oregon Pioneer atop the capitol rotunda. That same year, they became active lifelong members of Salem Alliance Church.
Together, they maintained an extensive hillside garden and enjoyed frequent travels around the Northwest and across America in their Dodge motor home. In addition, they frequently stamped their passports with trips to Mexico, Europe, Israel, Morocco, South America, and Australia.
In the mid-1990s, they built a new home on Woodhaven Street at the foot of the Straub family farm and entertained friends and a growing family of grandchildren. Clive preceded Virginia in death in 2005, after which she lived at Gibson Creek on Brush College Road before moving to Capital Manor on Dallas Highway.
In addition to the families of her sons, William H. Cushman, of Dallas, Texas, and Laurance E. Cushman, of Los Angeles, Virginia is survived by the families of Cordell Tittle, James D. Tittle and Lorena Tittle Behnke, of Woodburn; numerous nieces and nephews, 13 grandchildren, 25 great-grandchildren and eight great-great-grandchildren.
A memorial service will be held at Capital Manor on Tuesday, Aug. 13, at 2 p.m., followed by interment with her parents at Idlewilde Cemetery in Hood River on Wednesday, Aug. 14, at 2 p.m. Donations in her memory may be made to Salem Alliance Church and Capital Manor.