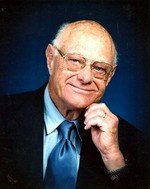 Raymond "Buck" Buchheit
October 15, 1926 - August 9, 2013
Raymond "Buck" Buchheit passed away peacefully Friday, Aug. 9, 2013, at Parkhurst House in Hood River, at the age of 86. Buck was born Oct. 15, 1926, in Portland, Ore., to Pansy and Ray Buchheit.
As a young boy, the family moved to Hood River where Buck attended Pine Grove Elementary School and Hood River High School; graduating from high school in 1945. Buck will always be remembered by good friends for many good times at HRHS, home of the Blue Dragons.
After high school, Buck joined the U.S. Navy and served during World War II and later the Korean Conflict and received an Honorable Discharge in June of 1946 after learning the skill of Printer Third Class. He returned to Hood River and was employed by the Hood River News.
On April 19, 1947, Buck married the love of his life, Barbara Ellen Matheny, and they had been married 66 years at the time of his passing. As high school sweethearts their marriage was always honored with love and dedication to each other, honesty, integrity, hard work and many good times with friends and family.
Buck worked at the Hood River News in a print career and management for 46 years. In 1982 he had been the longest-term employee of Eagle Newspapers with his career spanning five decades after starting during the summer of 1946. Known as production superintendent, Buck was responsible for many accomplishments while serving and working on the team for Eagle Newspapers.
The Hood River News team was named first place winner in the general excellence category of the National Contest 1982. The contest drew entries from over 3,600 newspapers and the News was chosen as the winner in the weekly circulation division. The general excellence award is based on competition in all aspects of newspaper publishing including printing. This award was received twice 10 years apart. He experienced hot type and hand-fed print, cold type print and offset printing in order to achieve these awards. Buck's skills were remarkable.
As a member of Hood River County Chamber of Commerce he served on the board of directors for 11 years. In 1989 he was given the Outstanding Service Award by the Chamber. He was a member of Hood River Elks Lodge and was Exalted Ruler in 1977. Buck competed in Elks Grand Lodge Ritualistic Contests in Chicago and Miami and he was All State Exalted Ruler in ritual in 1977.
As a lifetime member of Hood River Rotary Club Buck served eight years on the board of directors and five years as chairman of the scholarship committee. He participated in numerous fundraisers for the development of strong educational scholarships for local graduating seniors.
Buck enjoyed gardening, bird hunting and he enjoyed most all sporting events. He loved to travel with Barbara and together they enjoyed many cruises including Europe, Aruba, the Panama Canal and numerous trips to the Caribbean. Their favorite mini vacation was to Reno and Lake Tahoe and Palm Springs. Together they loved gaming, entertainment and good food.
They were also active in "The 78 Club," a group of local friends who starting hanging out together during the 1940s and said that once the collective age of each couple reached 78 they couldn't be in the club any longer. It should be noted that they still meet today — most of whom exceed the rule of 78 by themselves. Buck always looked forward to their get-togethers.
Buck is survived by his wife, Barbara; his sister Gerry Beauchamp and brother Bill Buchheit; nieces Jo Ann Wixon, Barbara Hosford (husband Mitch), nephew Michael W. Tenney (wife Valerie) and other extended family.
He was preceded in death by two brothers, Don Buchheit and Marvin Buchheit, and sister Lorraine Walters.
Services for Buck are planned as follows and all are invited to both Sunday and Monday services:
Sunday, Aug. 18, at 5 p.m. at Anderson's Tribute Center will be a time for friends and family to celebrate Buck's life with a reflections of life video tribute, eulogies by friends, the fraternal rites by the Hood River Elks Lodge and a praying of the Rosary;
Monday, Aug. 19, at 10 a.m. at St. Mary's Catholic Church, his funeral service and Mass will be led by Father Ron Maag and eulogy shared by U.S. Rep. Greg Walden. Graveside Rites with Military Honors will follow at Idlewilde Cemetery and then all are invited back to St. Mary's for a luncheon.
Donations are encouraged in memory of Buck to be made to Hospice of the Gorge.
Arrangements are under the direction of Anderson's Tribute Center, 1401 Belmont Ave., Hood River, OR 97031; 541-386-1000. Visit www.andersonstributecenter.com to leave a note of condolence for family.

Condolences are being received online.