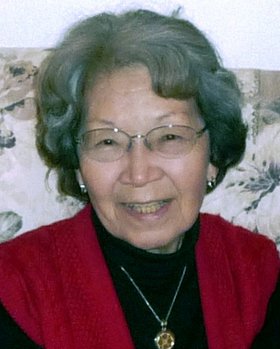 Jane "Nami" Hinatsu
September 22, 1926 - August 23, 2013
Jane (Nami) Hinatsu, 86, a resident of The Dalles, Ore., died at home Friday, Aug. 23, 2013. Jane was born Sept. 22, 1926, in Portland, Ore., the youngest of eight children to Ichiro and Ito (Hiraoka) Kawamoto. She was raised and educated in Oregon.
When the war broke out in 1942, she was relocated to the Minidoka Relocation Center near Twin Falls, Idaho, where she graduated from high school, and later from Western Business College in Portland.
On Dec. 6, 1952, she and Vic Hinatsu were married in Portland. She worked for various insurance offices in The Dalles, including a long period with H.F. Mckee Insurance before she and Vic owned and operated Harry's Radio and TV in The Dalles.
She joins her loving husband of 53 years, Vic, who passed away in 2005.
Jane was an avid Mariners fan, was active in Wahtonka Boosters, enjoyed gardening and helped with the local election board for many years.
She is survived by her son, Steve Hinatsu, and his wife, Shelley, of The Dalles; daughter Joan Riese and her husband, Greg, of Yakima, Wash.; grandchildren Derek Hinatsu, of The Dalles, Melia Hinatsu, of Portland, Kristen Hinatsu, of Corvallis, Joel and his wife, Hitomi Riese, of Kumamoto, Japan, and Beth Riese, of Seattle; great-grandchild Leah Nami Riese, of Kumamoto, Japan; brother George Kawamoto, of Burley, Idaho; brothers-in-law Norm Hinatsu, of Michigan, Dan Hinatsu, of Portland, and Sam Hinatsu, of Los Angeles, Calif.
She is also survived by nieces and nephews who were very special throughout the years, her longtime neighbors, and her church family at Faith Lutheran Church in The Dalles.
She was preceded in death by her parents, three brothers and three sisters.
A memorial service will be held Sept. 14, 11 a.m. at Faith Lutheran Church.
Memorial contributions may be made to Faith Lutheran Church, 2810 W. 10th, The Dalles, OR 97058, or to Heart of Hospice.