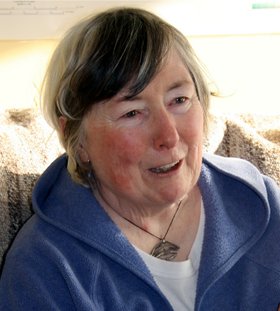 Janice May Staver
December 11, 1939 - August 14, 2013
Janice May Gannon Staver, 73, a beloved wife, mother, grandmother, and friend, died Wednesday, Aug. 14, 2013, at her home in Rowena, Ore., surrounded by family and friends.
She was born Dec. 11, 1939, in Rochester, Minn., the first of three children to Lloyd and Gladys (Sorenson) Gannon. She grew up on a dairy farm in Rochester and spent as much time outdoors with the animals and farm machinery as her mother would allow.
She was a natural horseback rider, practicing tricks on her Shetland ponies and riding her lively black horse, Turk. An active 4H member, she claimed grand champion at the Minnesota state fair with her Jersey heifer Rosebud.
She adored her Czech grandmother's cooking and would later recreate her Bohemian duck dinners for her family, complete with homemade sauerkraut and potato dumplings.
Janice attended Lourdes High School in Rochester, graduating in 1957. She then studied math and engineering at Rochester Junior College, before moving to Denver, Colo., in 1961 to conduct research in electroencephalography (EEG), becoming one of the first certified EEG technologists in the country.
There she met Robert (Bob) Allen Staver, a medical student at the University of Colorado who was assigned to work in her lab. They were married on June 20, 1964, in Rochester. They lived in Denver, St. Paul, Guam, and Omaha before settling in The Dalles, Ore., where they raised their three children, Jeffrey, Jennifer and Jonathan.
After living in town for a few years, Bob and Janice built a home in Rowena surrounded by beautiful views of the Columbia River Gorge.
Janice was an accomplished artist and musician as well as a full-time mom. She completed a bachelor's degree in art from Marylhurst College in 1987 after commuting to Portland once weekly for nearly 10 years. Her art was inspired by the natural landscape and by the beauty she saw in the ordinary. She worked in many media and often used found objects — wasp nests, bird feathers and ash from Mount St. Helens all found their way into her work.
She loved music of all sorts, but her heart belonged to the old-time fiddle music of Appalachia. She played for many years with the Mill Creek String Band and would jam until dawn at any opportunity. She also played the violin in the Mid-Columbia Sinfonietta and sang soprano with the Cascade Singers for many years.
Janice loved the Gorge community, volunteering her talents to engage all in the arts and environment. She was a founding member of Wonderworks, active with the Mid-Columbia Folklore Society, and served on the Columbia River Gorge Commission.
Janice created a home of warmth, laughter and tradition. She engaged life in a way that continues to inspire all who knew her. Janice drew our attention to the sometimes subtle beauty that surrounds us and is so often overlooked — the shape of a rock, the brilliant blue of a feather. Her love of life and those with whom she shared it remains a blessing to us all.
She will be so greatly missed by many friends and family members including her husband of 49 years, Bob Staver; her daughter, Jennifer Hohenlohe, her husband Paul and their two children, Saskia and Soren; her son Jonathan, his wife Rachel Winer and their daughter, Maya; her brother John Gannon; her sister Joanne Gustafson; and many nieces and nephews.
She was preceded in death by her parents and her son Jeffrey.
A celebration of her life will be held on Sunday, Sept. 8, at 6 p.m. at the Columbia Gorge Discovery Center. A private burial was held on Sunday, Aug. 18, at the Staver family home in Rowena.
In lieu of flowers, the family requests that donations be made to the Mid-Columbia Folklore Society, Wonderworks, The Dalles Art Center and Hospice of the Gorge.