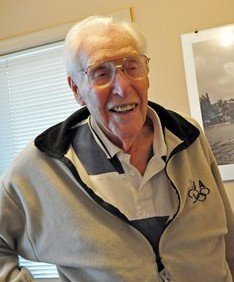 Ralph Smiley
September 1, 1920 - December 6, 2013
Ralph Smiley was born Sept. 1, 1920, in Bryson City, N.C., to Horace and Marietta Smiley. He died Dec. 6, 2013, in Hood River, Ore.
After graduating high school he enlisted in the Army Air Corps in 1939 and served until 1946. He was a survivor of the bombing of Hickam Field, Hawaii, during the attack on Pearl Harbor Dec. 7, 1941. He served in the Pacific Theater during the war and special assignments after the war.
He attended college at Santa Monica City, UCLA, and Cal Tech. He worked for several Los Angeles area aircraft companies; Lockheed, Douglas, and Lear. He met his second wife, Jean Scott, through his sister, Nell, a fellow nurse. They were married in Santa Monica, Calif., on July 29, 1949.
He moved his family to Odell, Ore., in August 1959 after purchasing a 40-acre apple and pear orchard.
He was preceded in death by wife Jean, brother Jack Smiley, and sister Nell Firner.
He is survived by his sister Louise Combs, of Highland N.C.; daughter Sherian "Bobbie" Morgan (Jerry), of Ventura, Calif.; son Robert Smiley (Judy), of McMinnville, Ore.; and daughter Pam Smiley, of Odell; grandchildren Jim Harris, Dwayne Harris and Bryan Daugherty; and six great-grandchildren: Tyler Harris, Megan Harris, Kevin Harris, Avery Daugherty, Arden Daugherty and Grant Daugherty; along with several nieces and nephews.
His three passions in life were flight, politics and the Oregon Farm Bureau. Even after leaving the aviation industry he followed closely the advances in both airplane and space travel. He served as Hood River County chairman for the Republican Party in the mid-'60s through the early '70s and was one of the founders of "The Dorchester Conference" with Sen. Bob Packwood in 1965, and attended every year until 2010.
He counted many well-known politicians as friends, including governors Tom McCall, Mark Hatfield, Vic Atiyeh, and Norma Paulus, and helped launch the political careers of Ken Jernstedt and Paul and Greg Walden.
He was elected president of the Hood River County Farm Bureau in 1972 after being a member since 1962. He was known as "The Godfather" and retired in 2012 after 40 years. He served longer than any county president in history of the American Farm Bureau.
Per Ralph's request, there will be no services. Memorial gifts may be made to the Ralph Smiley scholarship at the Oregon Farm Bureau, Salem, Ore. (orfb.org) or Mastiff Rescue Oregon (mastiffrescueoregon.org).

Condolences are being received online.