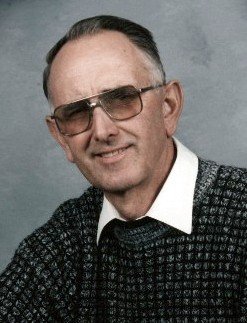 Joel Everett Nance
July 7, 1933 - November 25, 2013
Joel Everett Nance, 80, of Terrebonne, Ore., passed away due to bladder cancer on Monday, Nov. 25, 2013, at his new home in Bend, Ore. Joel was born July 7, 1933, in Redmond, Ore., to Eric and Winona Nance.
He graduated from Parkdale High School in Hood River County and continued his education at Oregon State University in which he received a bachelor's degree in animal science. He also received a plaque from OSU for the most outstanding junior in Animal Science.
Between 1953 and 1957 Joel was a hospital corpsman in the U.S. Navy and was stationed on a troop transport ship. His duty took him throughout the Atlantic Ocean and the Mediterranean Sea.
On March 5, 1966, he married Betty Reams in Hood River, Ore. Between the years 1974 and 1983 he was an active leader in the Boy Scouts of America and was Scout Master for a period of time. He received the Freemont district of Merit Award in 1981.
Joel worked as a meat cutter for Wagner Grocery Store for several years until he retired in 1994. He was a member of the Redmond Missionary Baptist Church for a number of years, and then transferred to Prineville Missionary Baptist Church where he served until his passing.
Joel is survived by his wife, Betty Nance, of Bend; son, Eric Nance, of Colorado, and daughter Linda Nance-Shive, of Bend; brothers Steven and Tom Nance; sisters Neola Gerard and Ruth Whitecotton; and five grandchildren: Jordan and Zachary Nance, Evin and William Shive and LaMiya Nance.
He was preceded in death by son Karl Nance; brothers Louis and Ralph Nance; sister Nancy Greiner and parents Eric Stanley Nance and Winona Pearl Nance (Hill).
A memorial service will be held at 3 p.m. Saturday, Dec. 21, at the Missionary Baptist Church, 1870 Riverland Drive, Prineville, Ore. Memorial contributions may be made to Hospice of Bend, 2075 N.E. Wayatt Court, Bend, OR 97701.