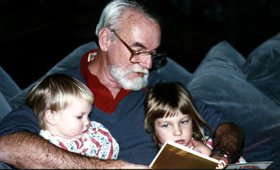 Norman "Norm" Kingsford Vance
August 22, 1930 - December 10, 2013
Norman Kingsford Vance passed peacefully in his sleep at home on Dec. 10, 2013. He is survived by his loving wife of 60 years, Anne, his four children, five grandchildren and one great-grandchild.
Norman was born on Aug. 22, 1930, to John and Hazel Vance in Grapeland, Texas. His father was a conductor on the Southern Pacific railroad, so his family relocated several times while he was growing up. But, the center of his early world was southern Arizona; Tucson, Nogales and Douglas.
As a very young man, it was in these towns that he hung out in the pool halls and learned how to speak Spanish, play the guitar and appreciate menudo. He joined the Air Force right out of high school and was stationed in Amarillo, Texas, as a sergeant and aeronautics instructor.
It was here that he met his future wife, Anne. But, it was to Tucson that he returned to start a family and a career. And it was Tucson where he blossomed as an artist.
Norm was publishing comics in the Tucson newspapers from early on and he was a prolific cartoonist for the duration of his life. He was a proud member of CAPS, the Comic Art Professional Society. He openly admired Walt Kelly and considered him the greatest comic artist.
Norman was also an exceptionally talented fine artist. His pursuit of perfection led him (and soon afterward the entire family) to southern California where he learned to master the techniques of drawing, watercolor, acrylic and oil at LA's prestigious Art Center. His love of art also inspired him to give lessons until he was unable to hold a brush.
His drawing skills provided him a stable career as a technical illustrator. For most of his adult life, he was an art director for Litton Industries in the San Fernando Valley. It was a high-stress job that he didn't particularly love, but he loved his family; so he clocked in, day after day until his retirement at age 65.
This was when he had a heart attack and the resulting bypass surgery. Soon after he recovered, though, he discovered golf. This mild physical activity was probably what the doctor literally ordered and it helped him to enjoy and sustain his retirement years.
In 2004, he and Anne decided to pull up roots and move to Hood River, Ore., where his son and daughter-in-law had recently moved. It was here that he had a burst of creativity and produced a wealth of paintings and other artistic endeavors.
He hand-crafted his own flutes and fireplace bellows. He took flamenco guitar lessons and often played the piano. He painted still-lifes of the fruit and veggies that Anne grew in her garden and landscapes of the bucolic scenes that he found in his new home.
He also painted a series of abstract oils inspired by the sunken remains of the Titanic that he titled the Epaves. He knew that these paintings would likely be among his last, and he put a lifetime of love, loss, longing … well, life into them.
He was proud of his accomplishments and he was proud of his family. Norman made an indelible impression on everyone he knew and the world is a better place for his efforts. He will be sorely missed.
Arrangements are under the direction of Anderson's Tribute Center (Funerals, Receptions, Cremations), 1401 Belmont Ave., Hood River, OR 97031; 541-386-1000. Please visit andersonstributecenter.com to leave a note of condolence for family.

Condolences are being received online.