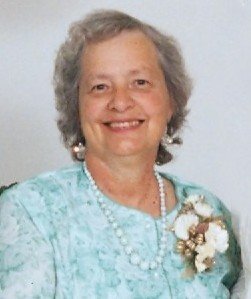 Laneta "Lennie" Margaret Mueller
May 10, 1930 - February 6, 2013
Lennie Mueller, 82, a longtime Parkdale resident, died of heart failure Thursday, Feb. 6, 2013. She gave time and love to her many friends and family.
Lennie was a person who made a positive difference in many people's lives. She provided her family with unconditional love and encouragement and worked tirelessly as an advocate for people in the community. She was gentle-hearted, compassionate and kind.
Laneta Margaret Mueller, known to all as "Lennie," was born at home on May 10, 1930, in St. Louis, Mo., to Rev. Louis Winfield Wickham and Bertha Hittmeyer Wickham. Lennie's father was a pastor, social worker and a U.S. Army chaplain who served four years overseas during World War II. Her mother was a milliner and a seamstress.
The family had four girls: Elaine, Muriel, Laneta and Lois.
Lennie grew up during the Great Depression and the family did not have much money but they had a strong Christian faith that strengthened and guided Lennie all her life.
After the war, her father worked for the Lutheran Children's Aid Society and the family often opened their home to young people in need. From an early age, Lennie embraced the value of providing encouragement and support to others.
Lennie often said she was blessed to grow up at a time when life was simpler than today. Summer days were filled with jumping rope, roller-skating and playing "Kick-the-Can" with her sisters and the neighborhood kids. She was very active in the Walther League, which was the youth group at her Lutheran church.
Lennie attended St. John's College, which was a small Lutheran school with a strong sense of community in Winfield, Kansas. She received her teaching degree in 1949. Lennie made lifelong friends at St. John's and enjoyed returning for reunions even into her seventh decade.
A momentous day in Lennie's life came in June of 1949 in Cleveland, Ohio, when she met the love of her life, Richard Lawrence Mueller (Dick). She always says it "was meant to be" as her family had just moved to Cleveland and attended services at Holy Cross Lutheran Church.
Dick's father, Rev. Martin Mueller, had just accepted a call as pastor to Holy Cross. Two days after that first meeting, Dick invited Lennie to an amusement park and then came over to her house to "fix the family bicycles."
The two young people soon were going out on dates and after a summer of family picnics, ballgames, golfing and dancing, Dick proposed. And so began a lifelong romance that lasted over 63 years.
Lennie and Dick were married on Aug. 19, 1950. Lennie often told the story of how the wedding almost didn't happen since both fathers were pastors and both wanted to perform the wedding ceremony. But thankfully, it was resolved with the two fathers taking a part in the ceremony, and the lovebirds were married with great joy on all sides.
In 1951, Lennie and Dick moved out west to start their grand adventure together. Dick worked in forestry and so the St. Louis city girl found herself raising a growing family in remote U.S. Forest Service ranger stations.
She took on the challenge with her characteristic optimism and cheerfulness, cooking on wood-burning stoves and making sure the family went to church services every Sunday, even if the closest Lutheran church was an hour away.
The family moved to Parkdale, Ore., in 1965 when Dick accepted the position of Hood River District Ranger for the U.S. Forest Service. For Lennie, this was like moving back to the city since Parkdale had a store, a restaurant and a school.
The very first Sunday in Hood River Valley, Lennie and her family attended church services at Immanuel Lutheran Church in Hood River, which would be her home church for the rest of her life.
Lennie cherished the fact that two of her sons became Lutheran ministers, continuing the family's strong connection with the Christian faith.
Throughout the following 48 years, Lennie Mueller made significant and invaluable contributions to the communities of Hood River County. Through her professional and volunteer work, Lennie co-founded several important social services programs and worked with members of the communities to initiate key projects to enhance and improve conditions throughout the region.
She became involved with helping migrant children who were in the valley with their families for the fruit harvest. It was in 1966 that a volunteer center was set up in the basement of the Parkdale primary school for the six weeks of the strawberry harvest. Lennie first served as a volunteer, helping to set up the program, and then worked as a teacher as the program grew to cover the apple and pear harvests.
In 1970, Lennie became the director of the Upper Valley Development Center and Head Start and served for 10 years. Through her leadership and guidance, an exemplary program providing education to thousands of children was built.
During that time, and as a Head Start Specialist at the Migrant and Indian Coalition for an additional six years, Lennie developed training modules, conducted parent training groups and served on numerous task forces that increased the standards of child development programs.
Lennie continued her gift of giving and service through her dedicated volunteer work in Hood River County. She served in many leadership roles in diverse community service organizations. She was a board member of the Parkdale Community Center for 26 years and President for nine years.
Lennie obtained grant funding, organized local events (her favorite was the Halloween Pumpkin Parade), and handled the maintenance and rental of the Parkdale Community Center. In addition, she volunteered for the Parkdale Home Extension, served as president for the Parkdale PTA, and for 10 years, was treasurer for the Upper Valley Boosters.
Lennie worked as a national trainer for "Looking at Life" Project, a federally funded project to instruct low-income parents in parenting skills. She traveled all over the country training hundreds of these parents in many cities.
Lennie also volunteered countless hours to improve the quality of life for disabled people. She was instrumental in the founding of the Hood River Early Intervention Council and served as chairman for eight years. The council provided special training and preschool opportunities for multiple handicapped children under the age of 5.
She also chaired the Columbia Gorge Center board for eight years, working to provide handicapped adults with a degree of independent living and increased resources.
As recognition for her service, Lennie received the Jim Klahre Award for Distinguished Service to Children, and the Soroptimist International Woman of Distinction award in 1999.
In 1986, Dick and Lennie took on a new challenge and opened up a "collectibles" store in Parkdale called "Plain and Fancy." Her children and grandchildren have many wonderful memories of helping Lennie run the store. Lennie was an ambassador for Parkdale, with the store serving as a meeting place for friends and strangers alike — all felt welcome to come and talk with Lennie.
Lennie was a longtime member of Hood River Toastmasters. She loved speaking and was a mentor and comfort to new members struggling with their fear of public speaking. She stayed active in the club until her Parkinson's disease prevented her from continuing.
Lennie's warmth and care touched the lives of many people. Her legacy lives on through all the people who knew her and love her. Her family is blessed to have been nurtured by her endless love and steady belief that caring about others, especially those in need, is more important than just about anything you can do outside of loving and caring for your family.
Here are Lennie's own words from an account of her life that she left with us:
Love your Savior and stay close to Him.
Love your family; they are your closest friends.
And always … always … count your blessings.
All who knew Lennie adored her. She will always be in our hearts and greatly missed.
Left to remember Lennie's wonderful spirit are her husband, Richard (Dick); her sister, Lois Horton; her sister-in-law, Mary Honsinger; her brother-in-law, Martin Mueller; her children: Margaret (Peggy) Fisher and Guy, of Millville, Del., Richard Mueller, of Hood River, Martin Mueller and Sally, of Nutley, N.J., Chaplain Peter Mueller and Adele, of Schofield Barracks, Hawaii, Michael Mueller, of Los Angeles, Rev. Jeffrey Mueller and Lynda, of Hood River, Anna Mueller and Alan, of Portland, and Kirk McKenzie, of Camas, Wash.
Also surviving are her 10 grandchildren: Cori, Katy, Max, Miles, Jacob, Annalisa, Jonah, Jesse, Michael and Nicole, and her nine great-grandchildren: Maleah, Kaiden, Julia, Mikey, Kaelyn, Jackson, David, Eli and Silas; and many other extended family members and friends.
Lennie's family has requested that any memorial donations be made to Immanuel Lutheran Church, 305 Ninth St., Hood River, OR 97031.
The community is invited to a memorial service for Lennie at 3 p.m. Sunday, Feb. 10, at Immanuel Lutheran Church. There will be a reception in the church basement immediately following the service.
She will be laid to rest with a private service next week at the Upper Valley Parkdale Cemetery. Viewing is scheduled from 9 a.m. to 4 p.m. with a special time to greet with Lennie's family from 4-5 p.m. at Anderson's Tribute Center (Funerals, Receptions, Cremations), 1401 Belmont Ave., Hood River, OR 97031; 541-386-1000.
Please visit www.andersonstributecenter.com to leave a note of condolence for family.

Condolences are being received online.