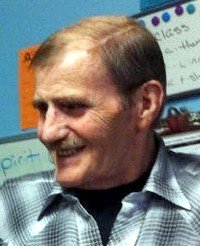 Doug Bailey
December 14, 1948 - January 29, 2013
Doug Bailey was born Dec. 14, 1948, at Hood River Memorial Hospital in Hood River, Ore., to James (Barney) and Pearl Bailey.
The youngest of 11 children, he grew up in the community of Mt. Hood. He had seven children, 12 grandchildren and one great-grandson.
He passed away at his home on Jan. 29, 2013, after a long illness.
He was preceded in death by his parents; brothers Bobby Joe, Floyd Lee (Mugs), James (Hap) and Orville (Smoke); sisters Anna Lou Sappington and Rhonda Galster; and son Jesse Goudy.
He is survived by his wife, Julee; children Charish Bailey, Jodie Tucker and her husband, Mark, Jeffrey Goudy and his wife, Minnie, Lena Macnab, Jennifer Spino and her husband, Russell, and Kasey Bailey.
He is also survived by grandchildren Frank, Angela, Emma, Ally, Jack, Cassie, Justin, Ryan, Abigail, Madison, Lyla and Jessica; great-grandson Raiden; brothers Art, Tom and Jerry; and sister Phyllis Holland; in addition he will be greatly missed by his numerous nieces and nephews.
Doug loved horses and hunting; he was an amazing truck driver and a great mechanic. We will love and miss him in spite of — and sometimes because of — his stubbornness, and insistence that it was his way or the highway.
Those who knew him would say he was alternatingly charming and exasperating; steadfast in his opinions and his love of his family. We will miss you more than we can say, and will always love you.
There will be a memorial service at 2 p.m. on Saturday, Feb. 16, at the Parkdale Church of the Nazarene, 7200 Fourth St., Parkdale.