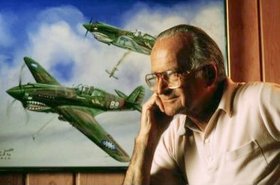 Kenneth Allen Jernstedt
July 20, 1917 - February 5, 2013
Kenneth Allen Jernstedt, who lived his adult life in Hood River, Ore., died Feb. 5, 2013, of age-related causes at 95.
Ken was born July 20, 1917, to Fred and Mae Jernstedt in Carlton, Ore., where he spent his childhood years on a farm on the Yamhill River, graduating from Yamhill High School in 1935. He fondly recounted throughout his life the happy youthful years of family and farm life, shared among his siblings Don, Ruth and Rex.
After graduating from Linfield College in 1939, where during his senior year he met his future wife, Laura Elliott, of Boring, he enlisted with the Marine Air Corps where he gained his aviator's wings in 1941.
He subsequently volunteered with two other Marine buddies from flight school for the American Volunteer Group, personally authorized by President Roosevelt and led by retired Air Force General Claire Chennault, where he was a squadron leader with the original Flying Tigers, fighting primarily over the Burma Road to assist China in resisting the Japanese invasion. He was Oregon's first ace in World War II.
After the AVG disbanded in the summer of 1942, he served as an experimental test pilot for Republic Aviation in Long Island, N.Y., when he married his college sweetheart, Laura Elliott. In 1946, the young family returned to Oregon with their son to settle in Hood River, where they added three daughters to their household, and Ken entered the soft drink business, operating Mid-Columbia Coca-Cola until 1968.
After Larry's death in 1960, Ken married Genevieve Weder Carl in 1962 and became the father also of her three young children. Ken first served as mayor of Hood River in 1959, followed by service in the Oregon House and the Oregon Senate from 1966 to his retirement in 1989. He was again elected mayor of Hood River in 1989. He was active as a lay leader in the Hood River Valley Christian Church, serving as an elder, deacon and chairman of the board until later years when health intervened.
For more than 65 years Ken was a proud resident of the Hood River Valley. He fondly recalled joining other locals in 1948 in shoveling snow from the football field the morning of an important late-season football game. He recounted how some folks took advantage of the monster winter of 1950 to drive their cars across the ice on the Columbia to White Salmon.
For many seasons he was part of the chain gang on the sidelines of high school football games, and he was an enthusiastic chauffer of daughters and friends to cheer and participate at away games, track meets and swim events. He often participated in local service projects of the Hood River Lions Club. He was always eager to take a small bet with local graduates of Willamette University in football and basketball contests with his Mighty Wildcats of Linfield.
In retirement, Ken enjoyed starting each weekday downtown in the company of a regular group of both new and seasoned "locals" for 90 minutes of coffee talk to solve the world's problems. For 10 of his retirement years, his walking companion was his faithful guide dog, Driscoll. He also served as a member of the Oregon Commission for the Blind, although he was able to read the news and favored magazines daily until very recent years.
Ken was predeceased by his siblings, his daughter Kristin (Steve of Cashmere, Wash.) Crossland, son-in-law Bruce Mason, daughter-in-law Sandra Reece Jernstedt, and grandson Brandon Frigaard.
He is survived by his wife of 50 years, Gen; sons Ken (Jill) Jernstedt, of Lake Oswego and Jeff (Ann) Jernstedt, of Bend; daughters Sybil (Bob) Ford, of Springfield, Greta (Keith) Sheppard, of West Linn, Meredith (Kent) Frigaard, of Wilsonville, and Laurie Mason, of Vancouver, Wash.
He was proud of 22 grandchildren: Ian (Wendy), Ben, Nicole (fiancé Cam Clennon) and Spencer Crossland, Erik, Matthew and Kaitlin Jernstedt, Seth, Joel (Shannon) and Paige Ford; Audrey (Jeremy) Forrest and Mark Sheppard (fiancée Amy Keyser); Alec (fiancée Kelly Cianciotta) and Gretchen Jernstedt; Martin, Kegan and Griffin Frigaard; Michelle Jernstedt, Courtney and Cody Mason; and eight great-grandchildren.
The family extends special recognition and appreciation for the wonderful care Dad was provided over the last five years at Parkhurst House of Hood River and The Springs at Wilsonville senior living community, supported lovingly in recent months by the angels of Serenity Hospice, Portland.
A memorial service will be held at 2 p.m. Saturday, Feb. 16, at the Hood River Valley Christian Church with a church reception to follow. The family suggests that in lieu of flowers, a memorial contribution be considered to Hood River Valley Christian Church, WAAAM in Hood River (www.waaamuseum.org), or a charity of choice.
The family also appreciates the thoughtful assistance in memorial arrangements of the generous people at Anderson's Tribute Center and pastors Dave and Linda Presley at Hood River Valley Christian Church.

Condolences are being received online.