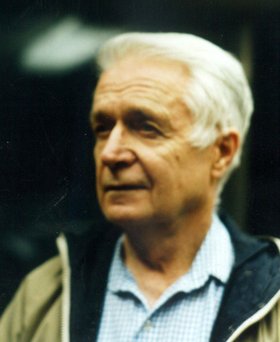 John H. Bennett
February 7, 1922 - January 1, 2013
John H. Bennett was born in Hood River, Ore., on Feb. 7, 1922, to Ralph B. Bennett and Anne Johnson Bennett. His family moved to The Dalles when he was 10, and his father bought The Dalles Optimist weekly newspaper and printing plant.
Here he learned aspects of letterpress printing and developed a longstanding interest in machinery and building sailing ship models.
John graduated from The Dalles High School in 1940 and worked in a tool and die defense plant in Ohio during the war, while attending Western Reserve University part-time. He returned to Oregon to enroll in the physics program at Oregon State.
After two years, he began exploring the production of ship model hull forms and fine parts for hobby trade as a commercial venture. With the help of a local machinist, Ed Juell, he designed and built two duplicating carving machines for the model shop. At the same time, he was tending the family's real estate interests in The Dalles.
John then enrolled in the art and design program at Lewis and Clark College and graduated in 1954 with a degree in fine arts.
Following the death of his stepfather, Scott Aitken, he returned to Hood River to take over the family orchard on the west side of the valley.
The orchard presented several challenges, and he enjoyed devising experiments to address these problems. The simplest was the application of Anjou pear pollen with the installation of special inserts in bee hives at full bloom. Repeated controlled tests revealed a fruit set increase of 70 percent.
The soil in the area was known to be difficult and shallow, but with the use of dendrometers for daily cambial growth measurements, he changed the irrigation schedule and enjoyed fruitful returns as a result.
In 1956 John married Janet Ellen Howe, daughter of Charles T. Howe and Helen Howe, and they became parents to Tom Bennett and Mary Ellen Bennett.
John and Janet were active members of St. Mark's Episcopal Church, singing in the choir, teaching Sunday school and serving on the vestry.
As a member of the local art club, he became the program chairman, during which time the club sponsored public meetings, bringing speakers from out of town, including Portland art professors, established artists, and even one archeologist.
In the spring of 1979, he joined with artist Joyce Bryerton to form a life-drawing group that met on Saturday mornings to draw the figure from live models. John maintained this group for 28 years, until 2007.
John died on Jan. 1, 2013. He is survived by his wife, Janet Bennett, and his children, Tom Bennett of Seattle and Mary Ellen Bennett of Eugene.
A Celebration of Life will be held at the Hood River Valley Adult Center at 2010 Sterling Place on Sunday, Jan. 20, at 1:30 p.m.
Memorial contributions may be made to St. Mark's Episcopal Church, P.O. Box 25, Hood River, OR 97031.

Condolences are being received online.