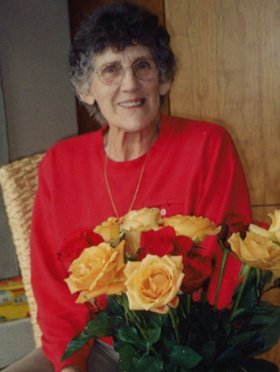 Peggy Lee Mulligan
March 4, 1921 - December 12, 2012
Longtime Douglas, Alaska, resident Peggy Lee Mulligan died Dec. 12, 2012, at the age of 91. She was born to John Thomas Lee and Pearl Eby Lee on the Colton ranch in Hood River, Ore., on March 4, 1921.
She attended Pine Grove School and graduated from Hood River High School with the class of 1938, and continued on to a business school in Portland.
She worked in the shipyards until enlisting in the Navy in 1943. She was stationed in Washington, D.C., and then transferred to Hawaii and worked in the admiral's office. She was discharged in December 1945.
Peggy worked on her parents' ranch and also packed fruit at several packing houses until she worked as a dental assistant for Dr. Pineo. Her cousin Jean Eby was a nurse in Portland. In 1947 they decided to go to Alaska as jobs were easy to find. She worked as a secretary and librarian at the U.S. Bureau of Mines until 1957.
Peggy married John Mulligan in 1956. First born was John Thomas, in 1957 in the Territory of Alaska, followed by twins Margi and Mat in 1959, born in the state of Alaska. In 1962, they moved to Douglas.
In 1970, Peggy resumed work; first in the clerk's office, then in the Senate, becoming secretary of the Alaska Senate in 1975; retiring in 1987.
She is preceded in death by her husband, John Mulligan; sisters Virginia Vierthaler, of Hood River, and Eleanor Nolan, of Tillamook; and brother, John Thomas (Tommy) Lee, of Hood River.
She is survived by her daughter, Margi Mulligan, of Juneau; sons John T. (and Philippa) of Seattle, Wash., and Mat, of Juneau; grandchildren Risa (and Reggie) Murphy, of Philadelphia, and Kate and Jack Mulligan, of Seattle; great-grandchildren Noah and Nathanial Murphy, of Philadelphia; sister Shirley Lee Ekker, of Hood River; and many nieces and nephews from the Nolan, Thomas, Lee and Ekker families.
Services will be in the spring and her ashes will be scattered in one of her favorite fishing spots.